How to Make an Upholstery Webbing Table Runner
Humble, functional upholstery webbing is given a sophisticated look when woven together to create a holiday table runner. Make this runner in a custom width or length to fit any table size or gathering.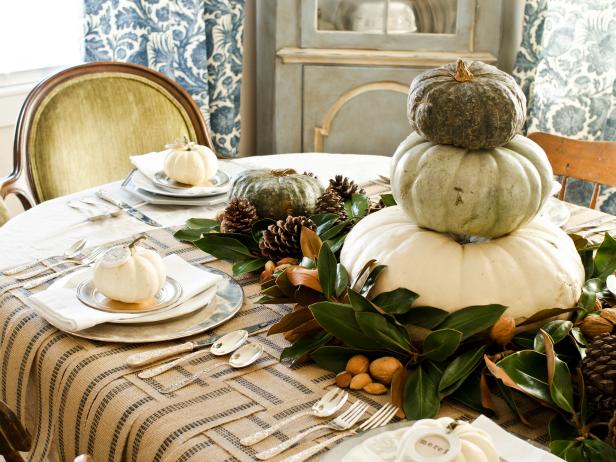 Craft a Rustic Woven Runner
Turn trendy upholstery webbing into an oversized table runner than can be rolled up, stored away and used to add an organic touch to your Thanksgiving table year after year. Get crafting with our step-by-step instructions.
10-20 yards of upholstery webbing, depending on desired size of runner (available at fabric and upholstery supply stores)
scissors
hot glue gun and glue sticks
Cut Webbing Widths and Lengths
Spread a length of upholstery webbing over table to determine desired size of runner. It should hang over both sides of the table by about 8-10 inches. Cut first length of upholstery webbing with sharp scissors (Image 1). Use that first piece as a guide for cutting other pieces, enough for the desired length of runner (Image 2). Next, line up all lengths of upholstery webbing. Run another piece of webbing across length and cut to size with sharp scissors — no excess overhang is necessary (Image 3). Repeat this process until entire width of runner is covered (Image 4). Tip: Upholstery webbing is available in several colors, including green, red, blue and natural; select whichever color best works with your decor.
Weave first length of upholstery webbing in an over-under pattern through widths of webbing (Images 1 and 2). Do this only with the first row in this step.
Apply hot glue where woven webbing intersects (Images 1 and 2). Press webbing down into hot glue until cooled. Tip: Only apply glue to underside of webbing where it won't be visible. Repeat this process for first row until all woven sections have been securely glued. Weave second row, alternating over-under pattern (Images 3 and 4). Hot-glue second row in place. Repeat weaving and gluing until entire runner is completed.
Finished Runner Care:
Wipe away spills with gentle soap and water.
Shake to remove crumbs.
Fold or roll to store.