How to Make A Trendy Rhinestone Headband
Turn rhinestone crystals and felt into a fashion-forward headband you can make for yourself or as a handmade gift for friends.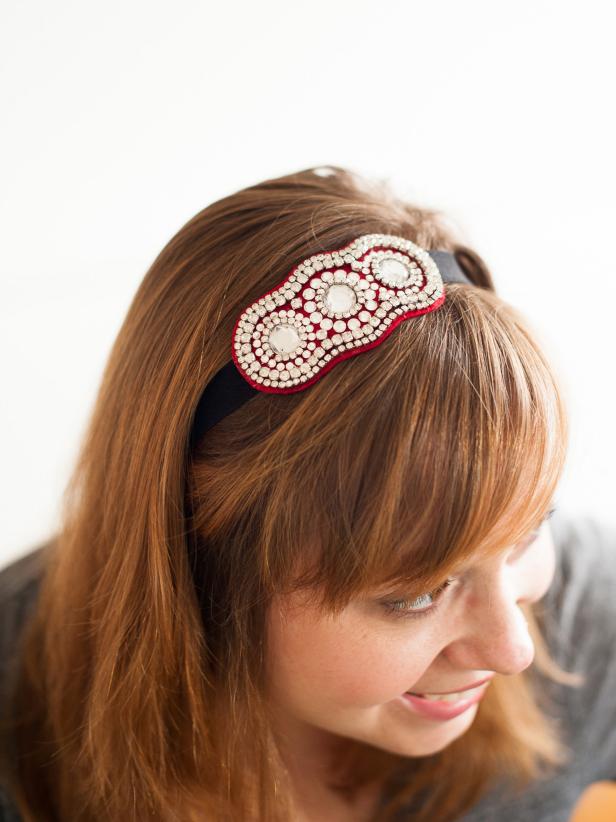 Trendy Rhinestone Headband
Fashion-forward friends will appreciate this stylish accessory that looks like a pricey vintage brooch — but is actually made from materials you can pick up at your local craft or fabric store. Our step-by-step instructions show you how to get the look.
scissors
1/2 yard small rhinestone trim
1/2 yard large rhinestone trim
30 small crystals
30 medium crystals
3 large crystals
6" x 6" piece of felt
1 yard of elastic trim
pencil
graph paper
tweezers
industrial-strength jewelry glue
Create Design and Attach Large Central Crystal
Sketch your design onto graph paper. Use the graph paper's lines to create a symmetrical design (Image 1).
Attach the rhinestones from the middle of your design and work outwards, using the graph paper sketch as a rough guide. Use a toothpick to apply glue to the back of the center, large rhinestone (Image 2) then glue the crystal to the center of the felt (Image 3).
Add Small and Medium Crystals
Wrap the small rhinestone trim around the large crystal to determine how much you need (Image 1) then cut off the excess.
Apply glue to the back of the rhinestone trim then attach it around the large central crystal (Image 2).
Start applying the medium crystals around your design to create another circle. Tip: Pick up a crystal with tweezers (Image 3) then apply glue to the back before attaching it to the felt (Image 4).
Continue adding medium crystals, one at a time, to complete the circular pattern (Image 5).
Continue attaching the crystals and rhinestone trim to complete the design (Image 1).
Finish with two rows of rhinestone trim. Apply glue to the back of the trim and tightly wrap it around the other circles, using a toothpick to adjust the trim so it's perfectly flush (Image 2).
Trim the excess rhinestone trim (Image 3).
After glue has fully dried, cut around your custom-made rhinestone headpiece (Image 4).
Apply a line of glue to the back of the rhinestone piece then place the center of the elastic band on top of the glue. Press in place and allow to dry (Image 1).
Determine where to tie the elastic by wrapping the headband around your head and knotting it (Image 2) then cut off any excess.
Get creative! Try using pearls and white rhinestone trim for the next headband you make (Image 3).