How to Make a Disco Ball Piñata
Grab a friend, and make this festive disco ball piñata for your New Year's Eve party!
We're sorry, there seems to be an issue playing this video. Please refresh the page or try again in a moment. If you continue to have issues, please contact us here.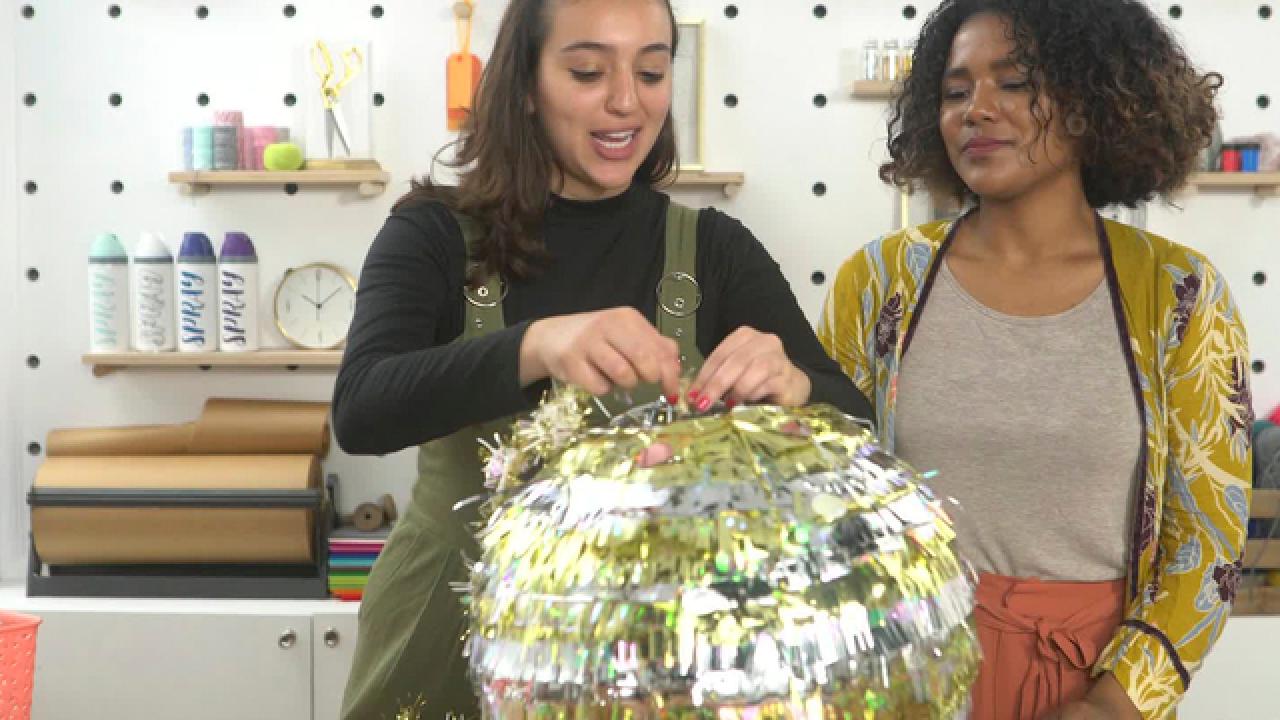 Bring glam and fun to your New Year's party with this festive disco ball piñata. It's a great way to send guests home with party favors.
party ribbon
hole puncher
double-sided tape
ruler
piñata stuffers like candy, confetti, small toys
fringe scissors
regular scissors
iridescent, gold and silver tissue paper
regular tape
rope
leftover Christmas garland
Stack your tissue paper, and measure and cut 3" x 2" pieces using a ruler and scissors. Fringe the pieces by cutting about halfway up vertically with fringe scissors. Tip: Stack no more than four pieces of tissue paper together for easier cutting.
Step 2: Assemble the Lantern
Assemble the lantern according to package instructions.
Step 5: Make Lantern Cover
Cut a rectangular piece of tissue paper larger than the opening at the bottom. Using a hole puncher, punch six total holes, three holes on each side parallel from each other. Loop the ribbon through the holes diagonally, like interlacing shoelaces. Put the black tissue paper inside of the lantern, and pull the ribbons out through the bottom hole. Secure the tissue paper to the bottom of the lantern with tape if needed.
Step 4: Attach Tissue Paper
Apply double-sided tape to each tissue paper piece and attach them one-by-one to the lantern, starting at the bottom with the fringe facing up. You can choose any pattern you like. We did two layers of gold to one layer of iridescent to two layers of silver to one layer of iridescent and repeated throughout the lantern. Cover the entire lantern with tissue paper. When you're finished, remove the metal wire from inside the lantern.
Stuff the lantern with party favors like confetti, mini champagne bottle cupcake toppers, little fortunes and chocolate kisses.
Step 8: Add Rope for Hanging
Tie a rope thick enough to hold the piñata to the small hooks attached to the lantern. Add some NYE glam but attaching your leftover Christmas tinsel to the rope. Hang it up at your party, and you're ready to ring in the new year.