How-To: Gold-Dotted Lamp Base
Re-create this trendy piece on a budget with this step-by-step from a crafty blogger featured in HGTV Magazine.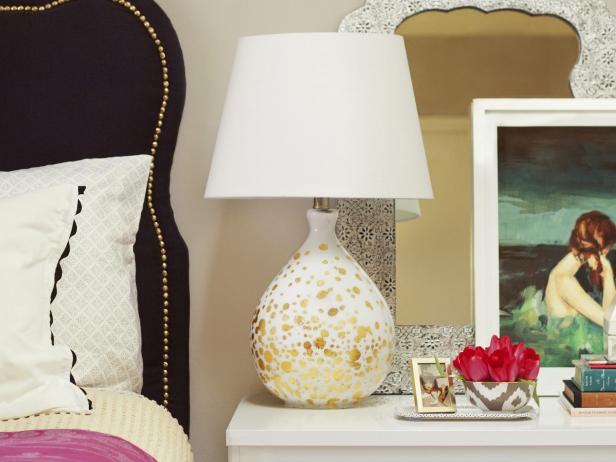 Gold-Leaf Dotted Lamp
This DIY project uses little more than a pouncer and gold-leaf to elevate a plain white lamp.
Emily Hart, a stay-at-home mom from Oklahoma City and home design blogger at recentlytheblog.com, creates DIY masterpieces. She enjoys turning off-the-shelf furniture and accessories into upgraded custom pieces. Her motto: "Patience and a willingness to do some digging go a long way when it comes to DIY."
glass lamp that's open at the bottom
gold-leaf kit
pouncers (aka round sponge brushes)
crafts brush
quart of latex paint
Turn the base on its side so you can reach inside its open bottom. Wrap the cord that runs down the center of the base in painter's tape.
Dip different-sized pouncers into the gold-leaf adhesive (called sizing medium), and dab them inside the lamp's base. Following the kit's instructions, apply the leaf. Use the crafts brush to remove excess leaf. Let set for a few minutes.
Pour about half the paint into the base and swirl it around to fully coat the glass. Stand the base on a paper plate and let drip-dry. Remove the tape, screw in a bulb and add a 10-to-12-inch-diameter shade.