How to Dip Dye Porcelain Dinnerware
Add a modern touch to your vintage china with color blocking to add a fun element to any tablescape.
vintage china
painter's tape or masking tape
paintbrush
porcelain paint
paper towels
Step 1: Attach Painter's Tape
Wash and completely dry china pieces. Attach painter's tape across the china pieces in desired pattern, making sure edges are smooth. Press firmly to get rid of any air bubbles.
Generously coat desired area with porcelain paint. Remove tape, and smooth out paint lines with a paper towel. Let paint set for 24 hours.
Step 3: Permanently Set Paint
Preheat oven to 350 degrees F. Place dishes on a rack, and bake for 30 minutes. Let cool.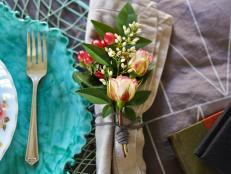 Bring the outdoors in with a garden-inspired miniature bouquet that you can tie around a napkin or wear around your wrist.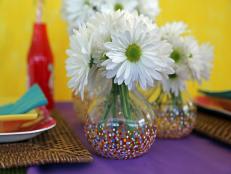 Bring color to your tablescape with these easy-to-make confetti-dotted vases.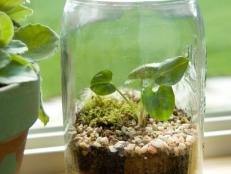 Learn how to create a tabletop terrarium with these simple step-by-step instructions.