Give a Hutch a Craftsman Face-Lift
Follow these step-by-step instructions for transforming an old hutch into a Craftsman showpiece.
Apply the Craftsman touch to a hutch with this project.
wood glue
automotive-body filler
spackle
primer
dark brown paint
two 8-foot pieces of ¼-by-1½-inch molding
four black door pulls
flathead screwdriver
flat bar
pliers
measuring tape
cordless skill saw
miter saw
nail gun with 1-inch nails
electric sander
weenie roller (paint roller with a small tubular pad attachment the size and shape of a hot dog; can also use a standard paint roller)
screw gun
paintbrush
220-grit sandpaper
tack cloth or rags
multipurpose spray adhesive
muslin fabric inserts
1. Remove upper and lower doors and the door hardware with a flathead screwdriver. Remove door hardware, lifting old nails with pliers, and old hardware by prying with a flat bar. Fill in any chipped wood with automotive-body filler. Let filler dry, and sand lightly with sandpaper.
2. Starting with the upper doors, remove the fabric inserts from the existing drapery rods. Remove the inner molding with a flat bar and lift the wire mesh out.

3. Measure and clean the inner molding by cutting away the decorative edge with a cordless skill saw. Sand the edges until smooth. Remove the dust with a tack cloth or damp rag.
4. With a miter saw, cut eight molding pieces from the ¼-by-1½-inch molding to attach to the back of the lower doors. Spray the multipurpose adhesive onto the back of the molding pieces. Attach molding to the back side of the lower cabinet doors with a nail gun.
5. Fill all holes left by old hardware and nails with spackle and let dry. Sand the entire piece, including the doors and shelves, with an electric sander. Remove dust as above.
6. Prime the entire piece, including doors and shelves, by applying primer with a paintbrush, and let dry. Make sure to rinse and air-dry your brush so it's ready to use when applying the paint.
7. Apply two coats of dark brown paint, allowing it to dry between coats.
8. Slide the wire mesh back into the upper doors and finish by reattaching the refurbished inner molding with wood glue and secure with a nail gun.
9. With a screw gun, reattach the same side of the upper doors and the reverse side of the lower doors, using the existing hinges and new door pulls.
Incorporate a television into a room's design without making it obvious.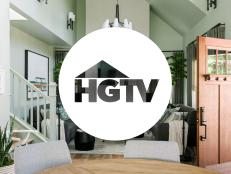 Design and construct a custom work space with these step-by-step instructions.