Found Object Wine Stoppers
Turn vintage doorknobs, sports paraphernalia and other interesting objects into eye-catching bottle stoppers in just a few steps.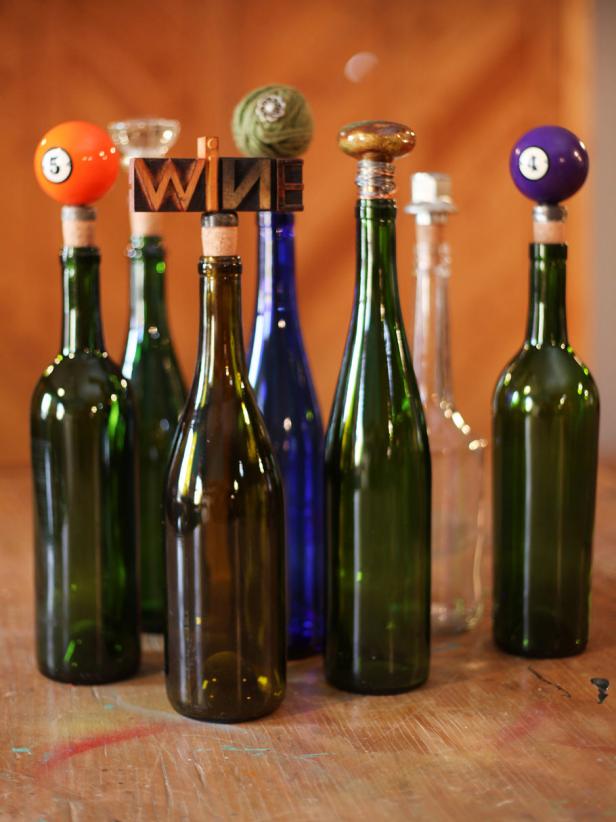 Found Object Wine Stoppers
Give keepsakes new purpose by turning them into conversation-starting bottle stoppers. Wine lovers will appreciate the useful, one-of-a-kind gift. Get crafting with our step-by-step instructions.
corks
1" automotive expansion plugs (size may vary depending on the cork size)
1/4" diameter wooden dowel
2-part epoxy
1/4" drill bit
assortment of found objects
hammer
drill
pliers or vise
awl or punch
Mark center of expansion cap with awl then drill through center of expansion cap using 1/4-inch drill bit.
Drill a 3/4-inch deep hole in the center of the cork using 1/4-inch drill bit. Tip: Placing expansion plug on the cork before drilling will ensure proper alignment. Use tape wrapped around your drill bit to give you a measured stopping point.
Cut 1/4-inch diameter dowel to 1-1/2-inch length.
Apply two-part epoxy to cork head and adhere expansion plug and dowel.
Drill hole in center of found object. Apply epoxy to dowel and attach found object.