Elegant Autumnal Centerpiece
Add a sophisticated touch to your Thanksgiving table with a centerpiece that includes fresh fruit and flowers.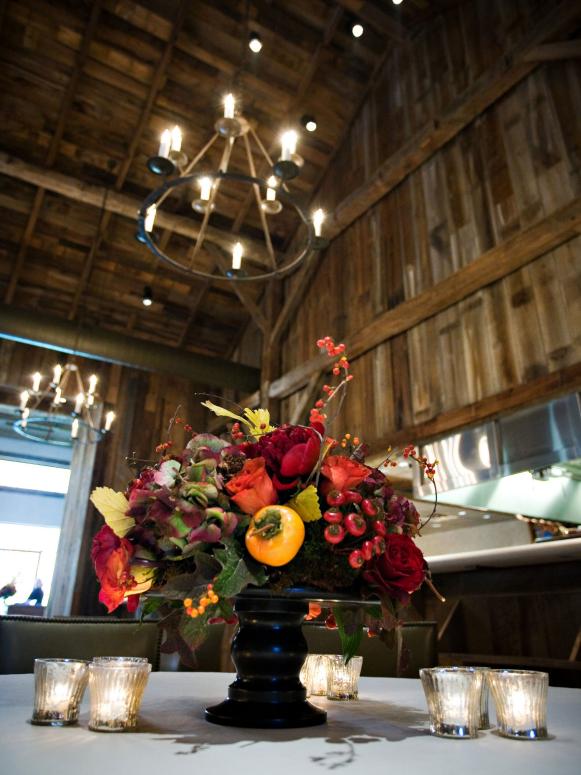 Fruits and Vegetables Thanksgiving Centerpiece
For added interest, mix fall fruits and vegetables with traditional flowers for a florist-worthy centerpiece. Persimmons, pears, apples and grapes are fruits to consider; squash, artichokes, asparagus and winter cabbage are good vegetable choices. Skewered with picks, the produce should look fresh in the arrangement as long as the flowers — about a week. Make your own with our step-by-step instructions.
footed cake stand
floral foam
floral/anchor tape
sheet moss
antique hydrangeas
rose hips
bittersweet
persimmons
red peonies
cherry brandy roses (yellow roses with orange tips)
oak leaves
terra-cotta roses
burgundy kangaroo paw
black magic roses (burgundy roses)
Note: The amount of materials needed depends on the size of the container and desired fullness of the arrangement
1. Lay cake stand upside down on dry floral foam and cut around edges of cake stand. Cut floral foam so it is three to four inches tall. Place cut foam in a sink filled with water and allow it to soak up moisture until fully saturated. Tip: Don't try to speed up the process by pushing the foam into the water, this will create dry spots in the foam.
2. Place the now-saturated floral foam on top of the cake stand. Secure it with floral tape placed in criss-cross fashion across the foam, the ends of the tape wrapping approximately one-half inch under the top of the cake stand. Cover foam with sheet moss.
3. Cut wooden skewers to the desired length. This will probably be between two to three inches depending on the placement of the persimmons. Slide skewers one-half to three-quarters inch into persimmons and add persimmons to arrangement.
4. Creatively place roses, peonies and hydrangeas. Fill in any gaps with pieces of sheet moss and oak leaves.
5. Finally, add sprigs of kangaroo paw, bittersweet and rose hips to the centerpiece for texture.