Dress Up Vases With Sharpies
Following the instructions below to create this fun DIY project from HGTV Magazine.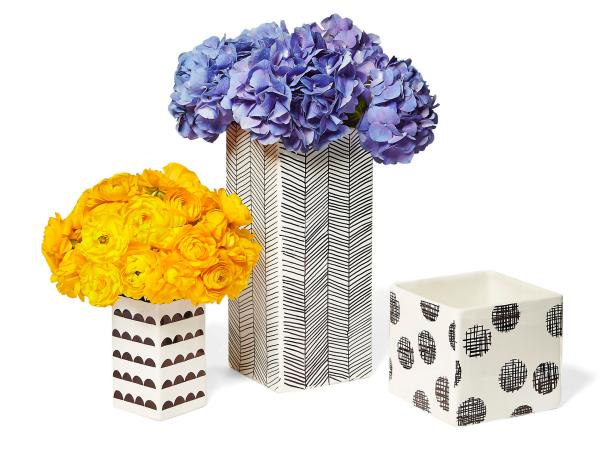 DIY Projects With Sharpies
Check out HGTV Magazine's ideas for creative ways to use permanent markers.
fine-point permanent marker in black
painter's tape
For Semicircles: Wrap a 7/8-inch-wide strip of painter's tape around a vase about an inch from the top. Draw a chain of semicircles around the vase right above the tape, using it as a guide. Remove the tape and repeat down the vase (the rows should be about 7/8 inch apart).
For Herringbone: Draw three vertical lines—they can be a little squiggly—down each side of a vase to divide each side into four evenly spaced sections. Working on one section at a time, draw short diagonal lines to create a herringbone pattern
For dots: Punch a 1 1/2-inch-diameter circle out of a 3-inch-wide strip of painter's tape. Discard the circle—the remaining tape is your stencil. Make three or four more stencils (the tape will lose stickiness, so you'll need a few for one vase). Adhere a stencil to the vase, fill it in with a crosshatch pattern, and repeat.
TIP: Make a mistake? You can erase Sharpie marks on ceramic with rubbing alcohol.