Downloadable Color-Block Doormat Templates
Welcome guests in style with HGTV Magazine's upbeat DIY doormat.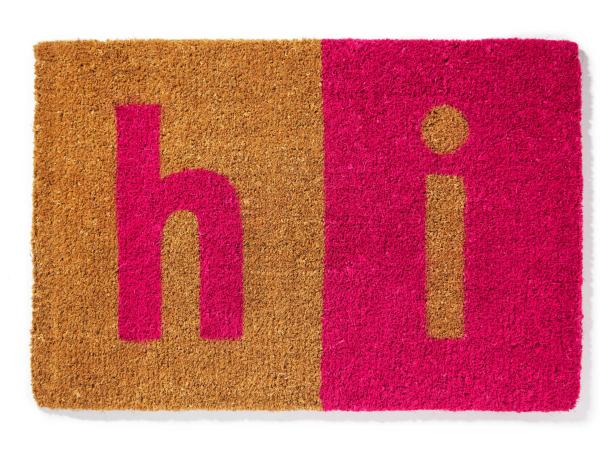 DIY Color-Block Doormat
HGTV Magazine shares 7 cute DIY projects with clever sayings.
Stuart Tyson; Crafting By: Ashley Page Norton
Check out all 7 of the cute projects with clever sayings that appeared in the May 2016 issue of HGTV Magazine. Then click the link below to download the printable "h" and "i" templates needed to create this cute and welcoming doormat.
2. Print them on cardstock, and cut them out following the directions on each template.
3. Divide your doormat in half with a piece of duct tape, placing the tape to the left of center. On the right side of the mat, center the "i" cutout and secure it to the mat with a strong adhesive spray (such as Super 77 spray by 3M). On the left side, center the "h" stencil, making sure to account for the space covered by the tape. Adhere the stencil with the adhesive spray. Tape off any remaining exposed coir on the left side with duct tape.
4. Apply two coats of spray paint. Remove the stencils and tape while the paint is still wet. Let dry.