DIY Your Way to a Dream Closet (Regardless of Size)
Forget what they say: Size doesn't matter.
Luxe Textures Create Boutique Feel in Master Closet
Luxe textures create the feel of a boutique in the master closet at this Connecticut countryside estate. Pieces of cowhide are stitched together for an updated take on an animal-print rug, while a shiny brass chandelier shade offers a little sparkle. Specialty shelving and drawers handle the functionality side of things with elegance.
Long before the days of blurring, brightening and comparing IG to reality, we ladies played the comparison game with closets. Was it just me, or did the film industry lead everyone to believe that adulthood automatically awards you with a walk-in closet the size of an NYC apartment? I refuse to believe I was the only 11-year-old who envisioned her future closet stocked with a motorized, rotating garment rack, crystal-decked chandelier(s) and Chanel handbags in every color. (I blame you, Cher Horowitz. We all do.)
My reality? I'm cozied up with my husband and our two 60-pound (ever-shedding) pups in an endlessly charming (quirky), 1,200-square-foot bungalow that was built in 1931. We're 0/3 in the rotating garment rack/chandelier/Chanel bag fantasy but we are blessed with five teeny-tiny closets, scattered aimlessly throughout various rooms in our house.
The bad news? I'm not Carrie Bradshaw and neither is my closet. The good news? I have the scoop we need to DIY our way into that screen-worthy, style-packed closet of our preteen, chick-flick dreams.
Create a Copper Garment Rack
If you're living in an old home, you're probably blessed with teeny-tiny closets as well. Follow my lead, here. I'm asking my husband to clear his plans Saturday because we're heading to the home improvement store to pick up supplies to create this cute copper garment rack. Perfect for all my non-Chanel clothes that spend 90% of their time on "the chair." (You know the one.)
Raise your hand if you've had to throw away more necklaces than you care to admit because you laid them on your dresser and they proceeded to tangle to a point of no return. Maybe you set aside your two fave necklaces and they decided to become besties on your vanity – ultimately ending in their knotted demise. Solution? Set up a chic spot for your jewelry using store-inspired mannequin displays.
Transparent and luxurious, lucite is a designer go-to when selecting furnishings for small spaces because of its feather-light appearance and style versatility. Get the high-end look by using lucite shelving, console tables and even chairs to store and organize your prized possessions.
Are we obsessed with this wall-mounted, acrylic sunglass organizer? Are we drooling over it? Are we feverishly searching for a dupe online? Yes, yes and you're welcome.
Hats are having a moment, and I'm here for it. Don't forget to give your hats a spot to call their own. All you'll need to create this haute hat wall is a hammer, some nails and either a good eye or a handy-dandy measuring tape. Do as I say and not as I do, since I shoved my new hat in the back of my closet just 18 hours prior to writing this.
Fashionable Floor-Length Mirror
Extend the square footage of your closet space with a striking, sturdy, floor-length mirror! I'm a huge fan of this hack for tight spaces because the mirror creates that high-end dressing room vibe and the reflection creates an illusion of a bigger space. Win, win.
Another way to widen your closet? Create a DIY wall-to-wall wardrobe using white shelves or bookcases. Doesn't this look like a totally high-end, custom closet install? SO chic.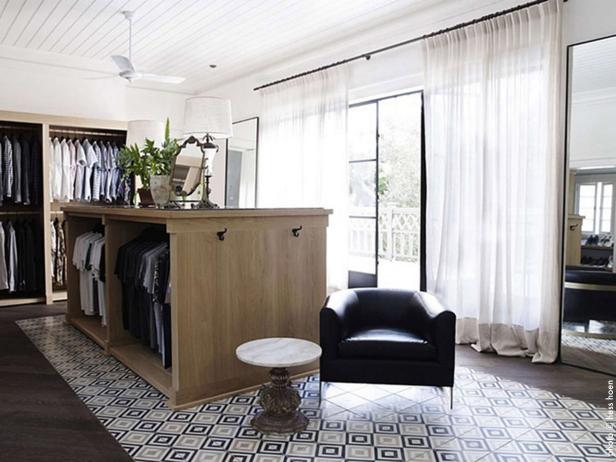 Organized, Relaxing Walk-In Closet
This homeowner wanted a closet that was an organized, relaxing space, so designers made sure to include plenty of space to hang clothes. Then, they added two full length mirrors, a comfortable chair. Finally, white, semi-sheer curtains help diffuse the light that comes into the space and helps it feel light, airy and relaxing.
The key to avoiding overwhelming, cluttered closets with open shelving is to be mindful and strategic of the colors you display. Keep your vibrant spring sweaters and patterned, summer tops behind doors and drawers. Store your everyday neutrals (whites, blacks, beige, etc.) in the open. The results speak for themselves.
Create Cohesion With Boxes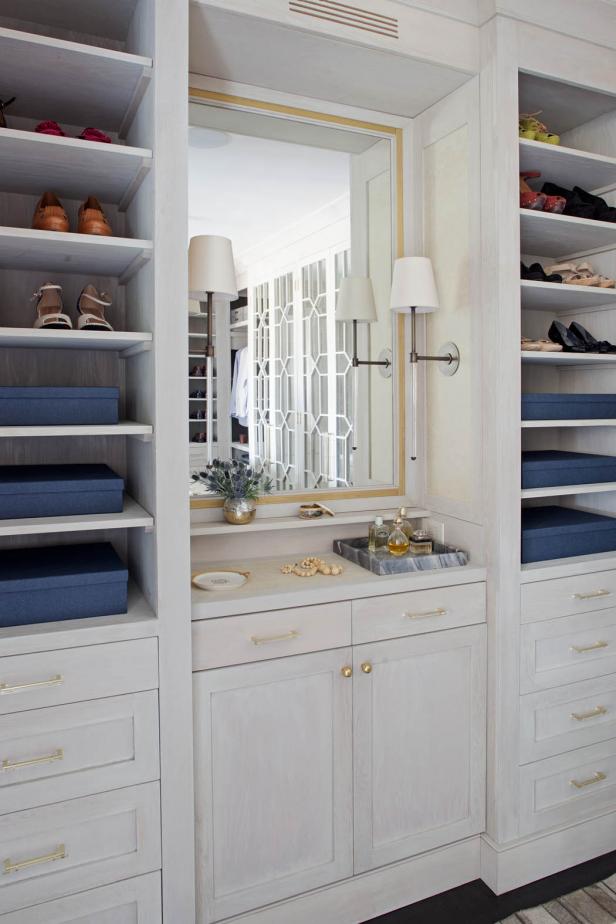 White Walk-In Closet With Gold Trimmed Mirror
The drawers and cabinets in the walk-in closet are dressed up with gold metal knobs and pulls. That elegant accent is echoed in the gold trim of the mirror above the dressing area.
A great way to incorporate color into your closet – without overwhelming your senses – is by utilizing cohesive storage boxes. I'm desperate to find the lovely, blue linen boxes featured here. How gorg?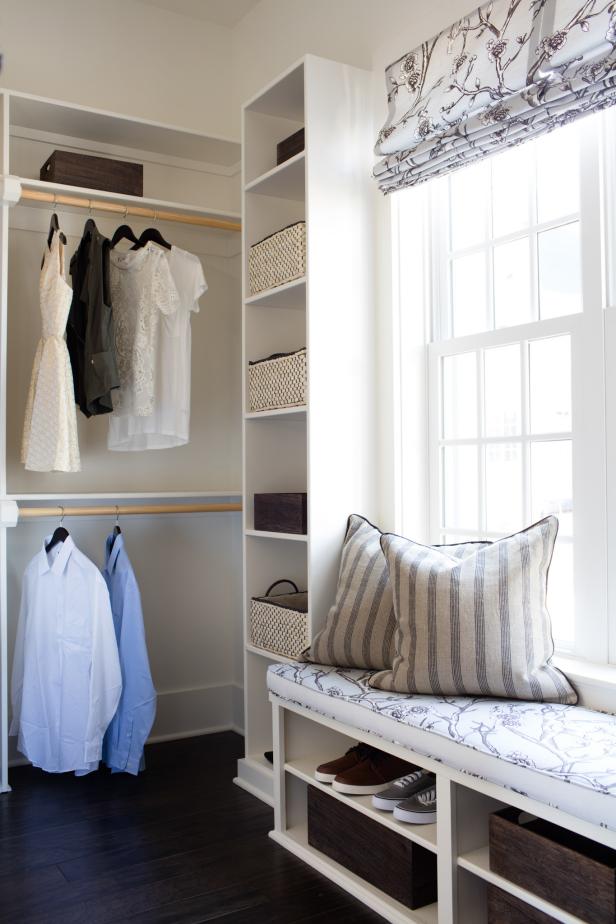 Charming Window Bench
A window bench padded for comfort provides a spot for changing shoes. Cubbies below the bench offer storage for shoes and other accessories, with baskets in a tower of open shelves for organized storage of smaller items.
Sarah Dorio/Flynnside Out Productions, 2016, HGTV/Scripps Networks, LLC. All Rights Reserved
If you're blessed with a walk-in closet but don't quite enough space for "the chair" (again, you know the one!) consider building it, instead. Add a built-in window bench and polish it off with a pile of plush accent pillows for a cute, cozy touch.