Refresh Your Party With a DIY Beverage Stand
Love the idea of an outdoor bar, but simply don't have the room? This space-saving, refreshment-cooling beverage stand is just what your backyard needs.
We're sorry, there seems to be an issue playing this video. Please refresh the page or try again in a moment. If you continue to have issues, please contact us here.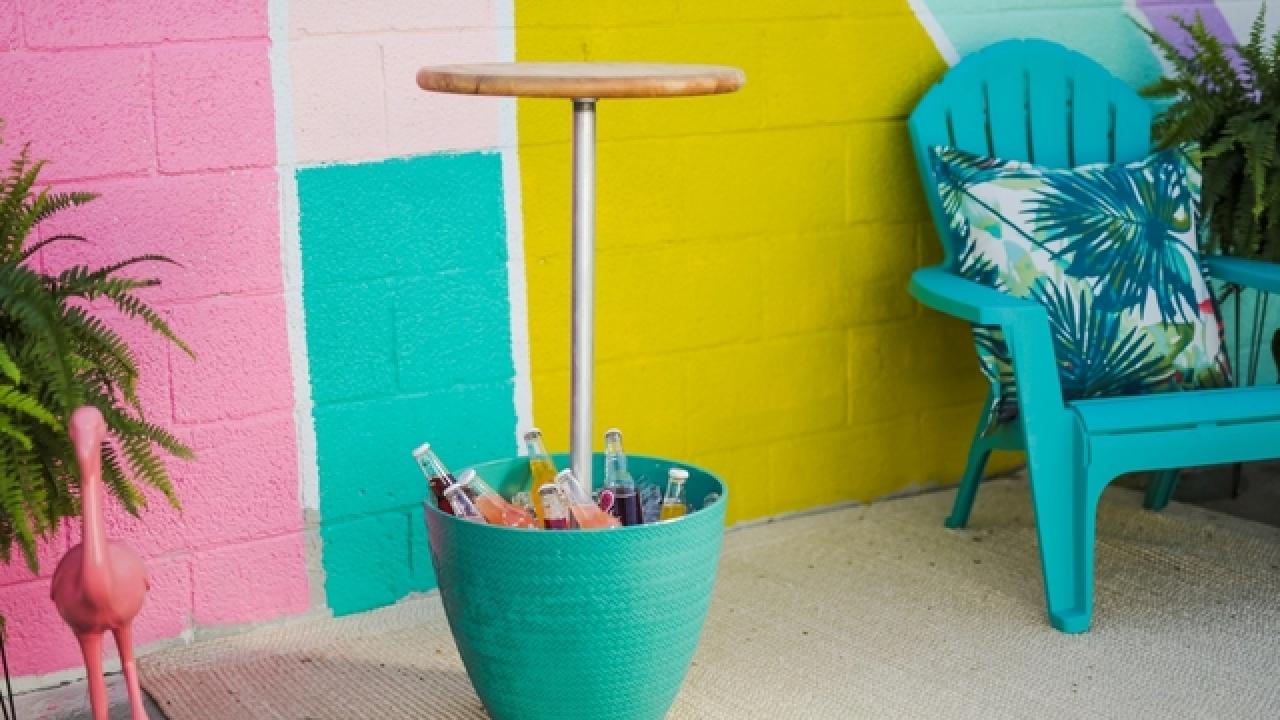 A beverage stand can offer a front porch or backyard exactly what seems to be missing: a place to linger and chat all while your beverages stay cool. Complete this DIY project in just an afternoon, but reap the bountiful beverage benefits all season long.
wood round
wood stain + cloth
outdoor sealant spray
large planter
hammer
nail punch
(2) flanges
drill + drill bit
screws
washers
all-purpose caulk
metal pipe
To begin, stain a precut wood round. Wood rounds can be easily sources at a home improvement and craft stores, alike. Once the stain has dried completely, layer the entire surface in a coat of outdoor sealant spray.
Next, prep the planter base. Flip the planter over, and punch two holes in the base using a nail punch and a hammer. This will allow for easy drainage once the base is ready to be used. Place a flange piece on the bottom of the planter, and pre-drill each of the four holes. Once the holes are drilled, place a fine bead of caulk around the inside edge of the flange. Secure the flange piece to the inside bottom of the planter.
To prep the top, turn the wood round over, and place the second flange piece in the center. Pre-drill each of the four holes, and attach with screws.
Now it's time to assemble your new beverage stand! Begin by inserting the metal pipe into the base flange, tightening it until it is fully secured within the planter flange. Next, twist the wooden top onto the metal pipe, turning until the metal pipe is fully inserted into the top.
To ensure the stability of the beverage stand, place a few bricks or large rocks into the planter base before filling it with ice. When it is time to party, place your favorite beverages in the ice, and have the perfect bar top to chat and enjoy a warm-weather bash.