How to Make a Whimsical Carrot-Shaped Coat Rack for a Kid's Room
Can't help but smile at this DIY wall-mounted coat hook.
I really needed a place for my young kids to store their jackets, backpacks and the ever-growing pile of costume play accessories, but I also wanted something that suited their height and didn't take up floor space. Rather than putting up basic hooks on the wall, I opted for a plywood wall-mounted rack designed to be as adorable as possible. I considered all kinds of shapes when I set out to build a kid-approved design – ice cream cone, pine tree, a banana, a flower, a cactus – but our favorite veggie won the vote.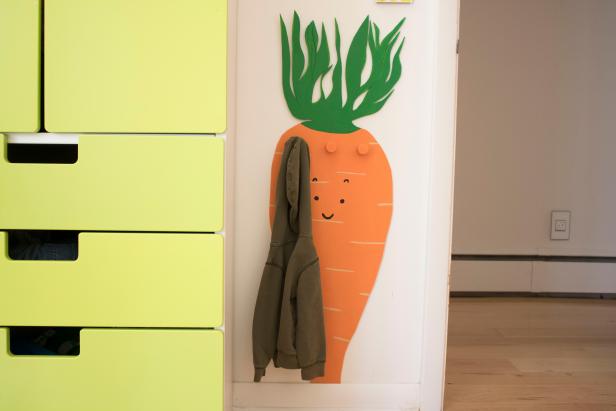 How to Make a Children's Coat Hook
1/4" plywood
pencil
scroll saw
1" dowel (10"-12" long)
chop saw
drill with 1/16" bit and countersink bit
assorted paint colors
paintbrushes
mounting hardware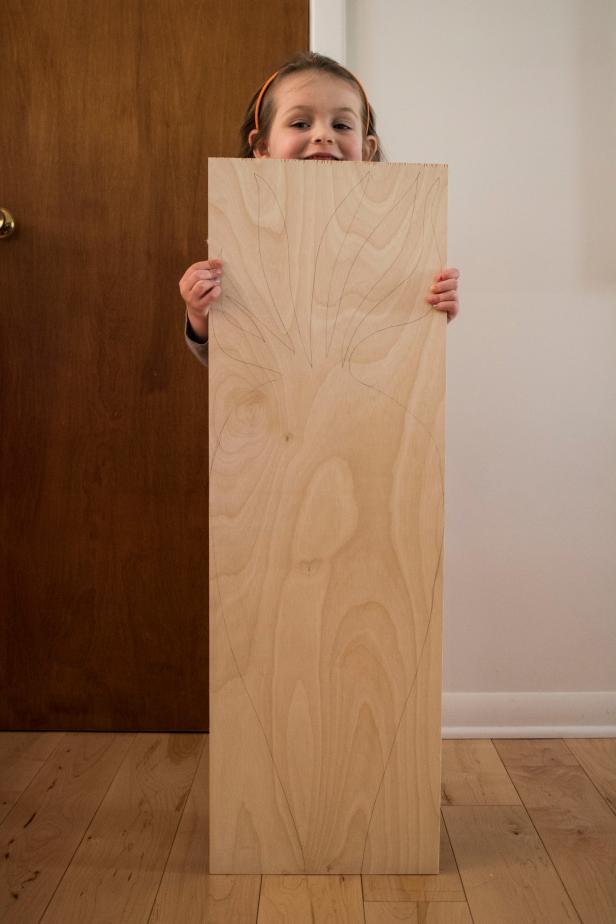 How to Make a Children's Coat Hook
Begin by using a pencil to freehand the shape of your design onto the surface of the plywood. Step back and assess your shape – in this case, what you're seeing is a very rough-looking carrot – and erase and re-sketch as needed.
Using a scroll saw makes it easy to cut out the shape of your coat rack. Follow the pencil lines, and navigate sharp turns and detailed areas (like the stem of the carrot). Once you've cut the shape, use sandpaper to smooth splintered edges.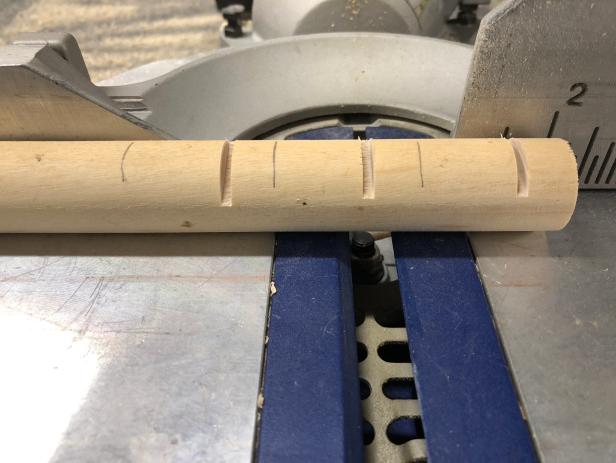 How to Make a Children's Coat Hook
A piece of 1" dowel can be trimmed using a chop saw to make simple hooks for your coat rack. Measure 1-1/2" sections along the length of the dowel and mark those lengths with solid pencil lines. Within each 1-1/2" section, also measure 1/2" from the end of the piece, and pencil in a dotted line. The dotted line will represent where you need to only cut a notch into your dowel, whereas the solid line is where you will cut all the way through the dowel. Start by cutting only the notches while the dowel is still at full length (it's safer to hold in the chop saw when the dowel is long). Once you've cut all notches, cut along the solid lines to trim each hook to length.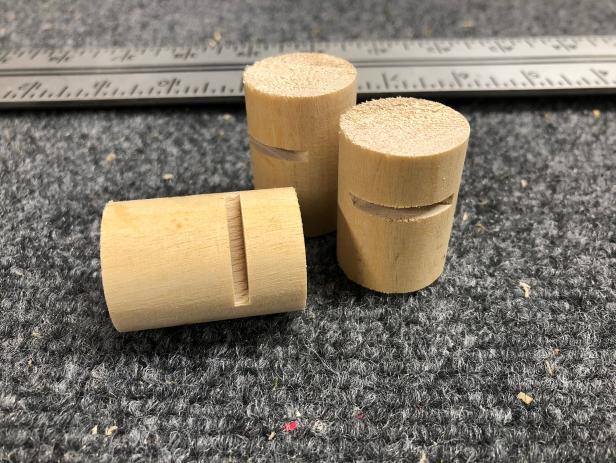 How to Make a Children's Coat Hook
You'll end up with three (or more) simple dowel hooks for your coat rack. Sand all of the hooks smooth with sandpaper.
Looking for an alternative to the dowel hooks? You can also use store-bought knobs for this part of the job. Choose wooden knobs if you plan to paint them.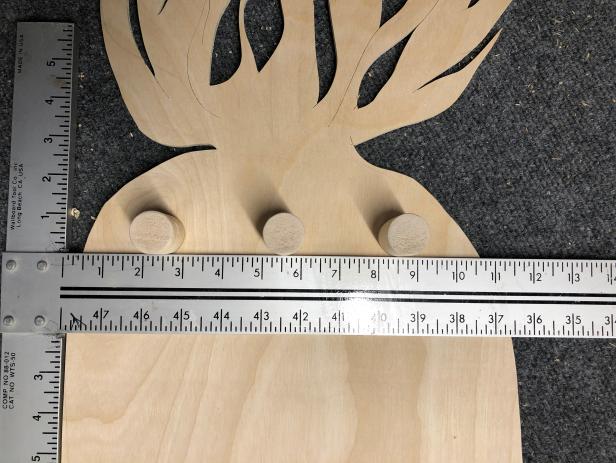 How to Make a Children's Coat Hook
Plan where you would like the hooks to go on your coat rack and then mark the spot with a pencil.
Predrill through the plywood at those points using a 1/16" drill bit. Also, use the same drill bit to predrill the dowel hooks – don't drill all the way through the length of the dowel, just inward about 1/2" to make it easier to attach the hook to the base.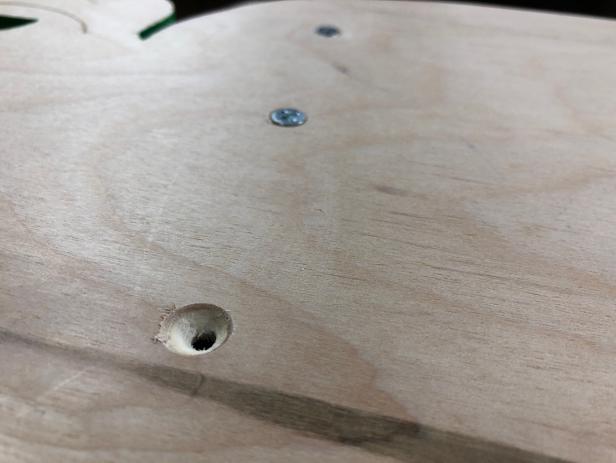 How to Make a Children's Coat Hook
Flip the plywood over so that you're looking at the side that will eventually be against the wall, and use a countersink bit to widen the opening of each predrilled hole so that the screws on the backside of the coat rack will sit nestled inside.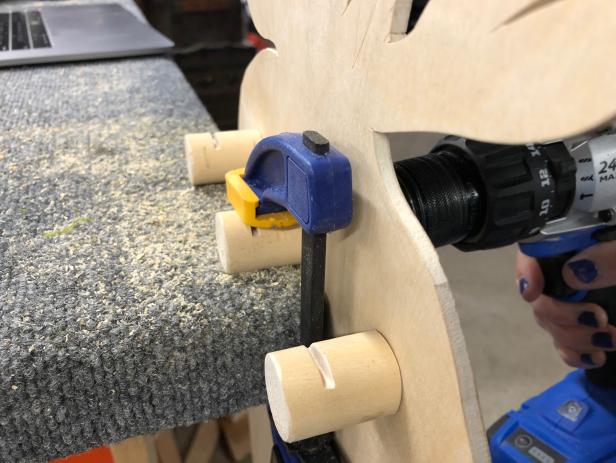 How to Make a Children's Coat Hook
When you're ready to attach the hooks it's easiest if you can manually thread each of the screws through the plywood and into the hook, and then clamp the hooks down so they don't spin when you tighten with a drill.
Indoor paint samples bought at the store can be color matched to your choosing and are also pretty inexpensive (about $3/each). Make your selects and then get to painting the detail on your coat rack. Pro crafting tip: Googly eyes or cartoonish expressions are optional, but always a delight.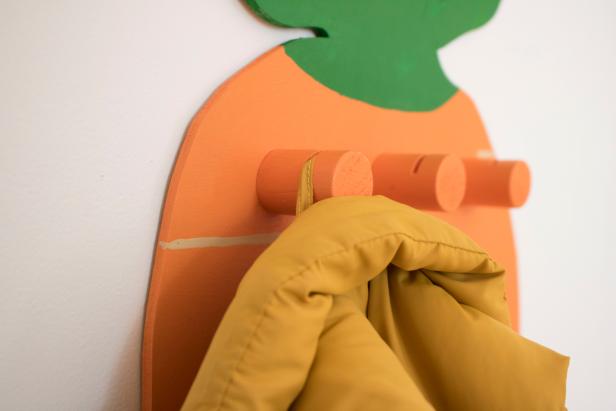 How to Make a Children's Coat Hook
The wall-mounted rack will be most secure if you're able to get it into a stud in the wall. If not, consider using toggle bolt anchors to be sure it will support the weight of coats and backpacks.
Use your paint to "touch up" the silvery surface of your hardware so that it's camouflaged.
Fill it up, and enjoy the colorful addition to your children's room.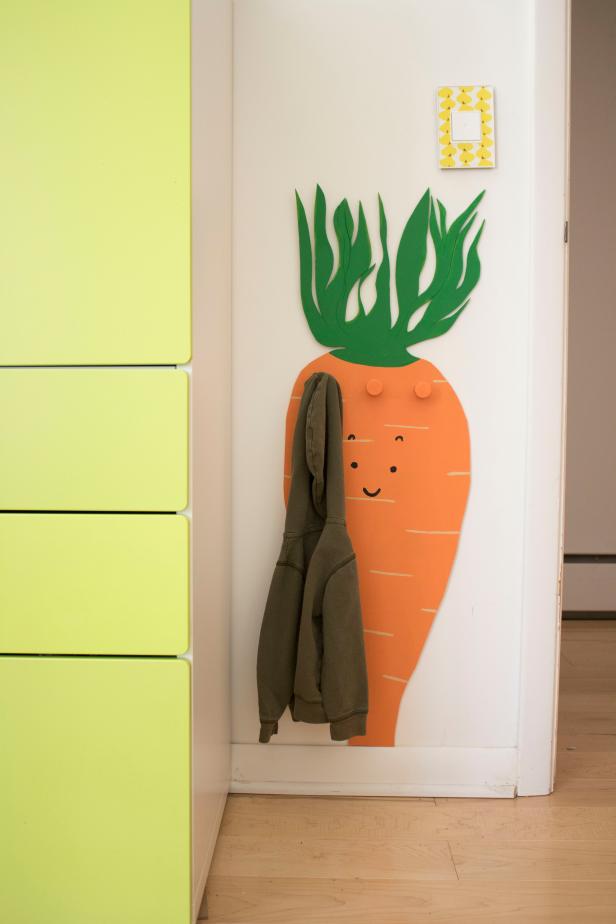 How to Make a Children's Coat Hook