Fall-ify Your Mantel With DIY Floral Pumpkins
Add DIY blooms to faux pumpkins for seasonal decor that lasts from year to year.
The end of summer means it's time to change up your home decor for the coming season. Fall provides endless affordable decor from natural elements to paper crafts. To make a big impact focus on the central part of your room. For many, that is the mantel. Give your fireplace mantel a modern fall makeover with faux flower pumpkins and assorted candles.
craft pumpkin
spray paint
metal poker
hot glue gun
faux flowers
Spray two coats of paint on craft pumpkins. Let dry completely.
Using a piece of metal, puncture craft pumpkin with holes for stems. Arrange faux flower pattern. Hot glue selected greenery onto the pumpkins.
Display decorated arrangements on mantel.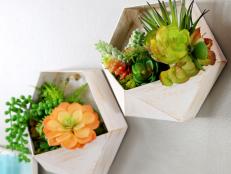 Save major money on wall decor by getting creative and crafty with common items from your recycling bin.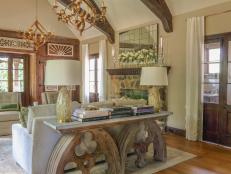 Elevate the look of your room with these exquisite obelisks, orbs and other accessories that range from dainty to weighty.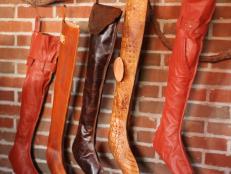 Give your holiday mantel a high-fashion makeover with custom leather Christmas stockings.