How to Decorate a Mirror for Your Fall-Inspired Porch
Use fall leaves to create a simple, autumnal decor piece for your porch.
Cup of hot cider? Check. Piles of pumpkins? Check. An eye-catching accent for your home that you can craft in an afternoon? Check. You can enhance any simple round mirror by looking in your own backyard. Here, we decorated with spray-painted sassafras leaves. This works great as a wreath, too.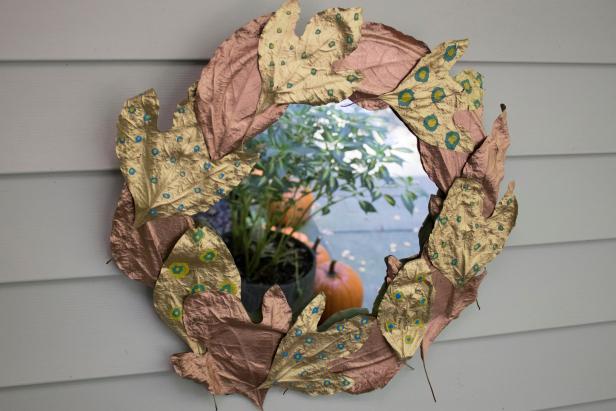 How to Make a Fall Mirror Wreath With Leaves
piece of cardboard
marker
scissors or utility knife
sassafras leaves
spray paint (optional)
assorted paints (optional)
spray mount adhesive
double-sided tape
If you're framing a mirror, trace it then draw a circle that's 1" larger for an overhang. Use a utility blade to cut it out.
Sometimes fall leaves are pretty enough straight off the ground when they're a rainbow of colors, and they'll hold their color for a while if you sandwich them in wax paper and run a warm iron over them. However, we added some shine with a couple coats of metallic gold and rose gold spray paint.
Attach the Leaves to the Cardboard Frame
Do a rough layout with the leaves onto the cardboard circle before attaching because spray adhesive is unforgivably sticky. Spray adhesive onto small sections at a time, and firmly press the leaves into position on the cardboard. Tip: Painted leaves will hold up well if stored properly. Store it flat on a shelf or hang in an area where it won't get crushed.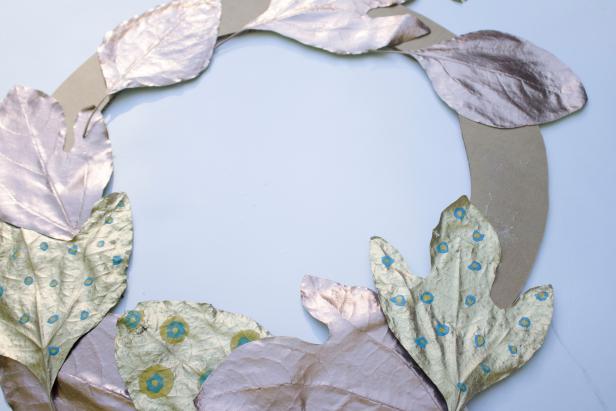 How to Make a Fall Mirror Wreath With Leaves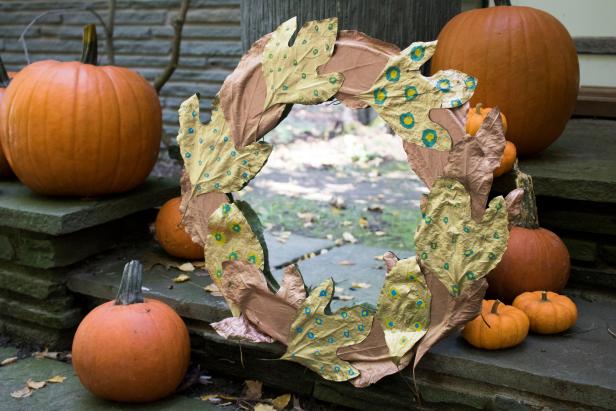 How to Make a Fall Mirror Wreath With Leaves