Creative Genius: Julie Jackson of Subversive Cross-Stitch
Meet the dark and crafty mind behind the website Subversive Cross-Stitch. Plus, get free downloadable cross-stitch designs!
Has work got you down? Does your boss make you so mad that you curse wildly? Find a creative outlet for your frustrations and who knows, maybe one day you'll turn it into a very successful business. That's what Julie Jackson did.
Ten years ago, she was working at a job she didn't like and her boss was a bully who was driving her completely mad. One day on her way home from work, Julie stopped at a craft store, thinking it might help ease her frustration to stitch a few choice words. She bought a fancy wedding sampler that came with an alphabet chart and she simply stitched the "F" word. It worked. Julie found her F-bomb creation to be therapeutic as well as funny. She began to get more traditional store-bought kits and stitch more not-so-appropriate words. Everybody loved them, so Julie decided to create a website just to share her creations with friends and family. Within a few months, she had a big following and started to take orders for her patterns, thus Subversive Cross-Stitch was born.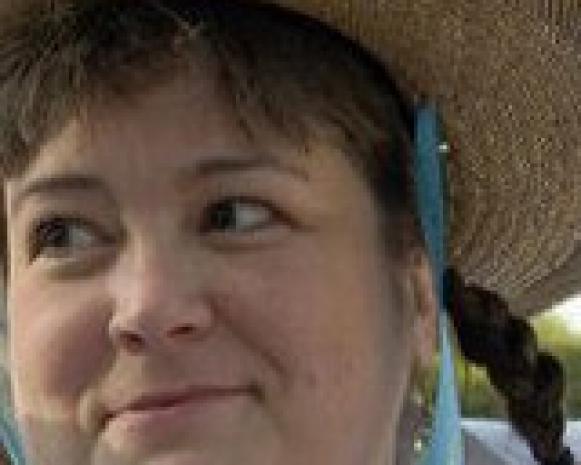 Julie Jackson of Subversive Cross-Stitch
Julie Jackson, the mastermind behind [SubversiveCrossStitch.com](http://subversivecrossstitch.com/blog/) uses her craft to express some attitude, and help others express their surly side. Concocted as a way to release her own frustrations, her empire of kits, books, and supplies are now enjoyed by many.
Julie was thrilled that so many people "got" the idea and found it funny. (The editorial staff here at Made+Remade is certainly gaga over it.) "For me, the best part is sharing the joke with others," says Julie. "I was really happy that so many other people understood the humor and were good-spirited about it and not mean."
We asked Julie a few more questions about herself and her craft.
What would people be surprised to know about you?
Julie: I think the biggest misconception about me is that I must be super angry because I stitch these phrases. I didn't realize for a very long time that some people were approaching me kind of gingerly, assuming I'd be mean or pissed off, which I'm not at all. I just truly love ironic humor and dark humor. I didn't even curse that much in real life before I started doing this, though now it's kind of my job.
Have you ever received any flack from people or groups about some of your vocabulary?
Julie: Amazingly, over 10 years, it has happened only a few times. One was a local printer early on who didn't want to print my envelopes because of the language. Then there was a woman years ago who had accidentally stumbled onto my site and wrote to me to express her shock. I responded, said I understood, and we actually had a good conversation about it. I understand it's not for everyone, just as there are some topics and four-letter-words I would never use on my site.
Out of all the patterns you've done over the years, do you have a personal favorite?
Julie: I love the very first one I did, which I unfortunately sold and don't have a great photo of anymore. I also love the round one which is a bit complicated with the "F" word in the center because it was a real challenge to stitch. Urban Outfitters turned one of my designs into a pillow, with a different phrase, of course.
Do your customers write you and send photos of their subversive cross stitches?
Julie: Yes, and I love it, it's my main inspiration. Mostly this is through the submissions in the Subversive Cross Stitch Flickr group. Since I work at home and create in a vacuum, it's a great way to see where people take the idea and no two people interpret it the same way. It's hard to express just how much I love to see what people come up with — there are times I gasp and cover my mouth and can't stop laughing. Some people take it much further than I would. I also love to see what's happening on Instagram when people use the #subversivecrossstitch hashtag. It's fun to sneak up and surprise them with a comment.
Now that cross stitch is your business, do you still do it for relaxation? If not, what other hobbies do you have?
Julie: I love to sink my teeth into more challenging pieces when I have a chance, like commissioned work for magazines or other media. It's just so relaxing to stitch, it's still very therapeutic. I also love photography, dressing up my pets (of course), and I have a very large collection of vintage photos of Siamese cats. I'm not sure what I'm going to do with all of them. I guess I could turn them into a history book for Siamese cats, since we have four. I could make up stories about their ancestors to read to them at night. Weirder things have happened (like my other book, Kitty Wigs). (Editor's note: Kitty Wigs is subversively hilarious. Check it out!)