Creating a Christmas Lantern
Add a few Christmas-inspired flourishes to a hurricane lantern to create a beautiful holiday decoration.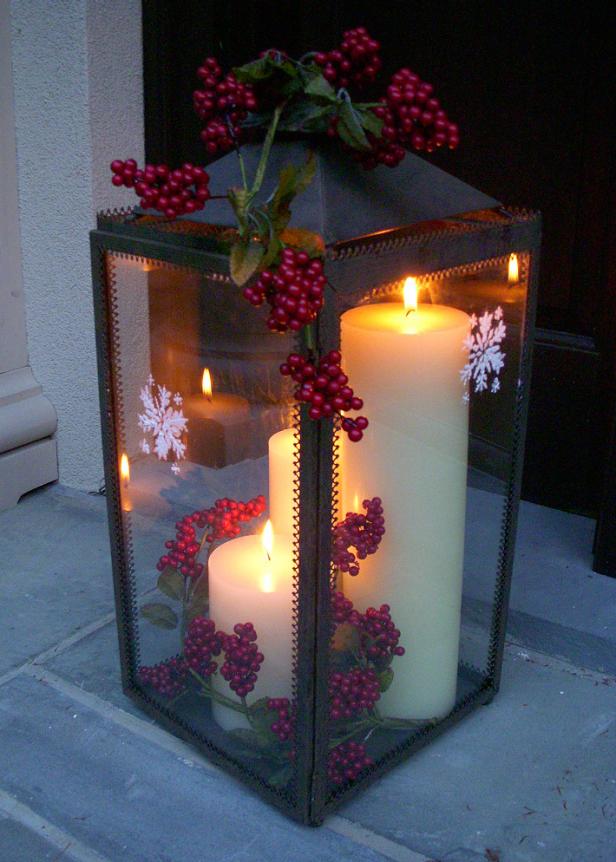 Lantern With Holiday Berry Sprigs
Designer Erinn Valencich gives her front porch lanterns a wintry update with artificial sprigs of berries and snowflakes she applied using a craft-store stencil and spray snow.
large hurricane lantern
small, medium and large pillar candles
fresh or faux holly sprigs
spray-on canned snow
snowflake stencil
thin guage wire
1. Place snowflake stencil on outside of lantern, either hold or tape in place while spraying over stencil with spray snow. Allow the snow to set up for approximately one minute before removing stencil.
2. Carefully remove stencil and clean up any overspray with a damp paper towel. Continue stenciling on snowflakes in a random fashion until you are happy with the result.
3. Place pillar candles inside lantern and surround with fresh or faux holly sprigs.
4. Attach a final sprig of holly to the top of the lantern with wire and place lantern on an entry table or by front door to welcome holiday guests.