Computer Circuit Board Belt Buckle
Give a broken computer new utility by turning the components into a geek-chic fashion accessory.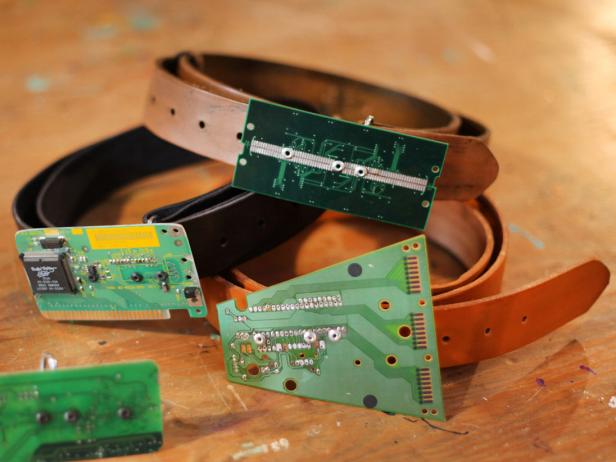 Computer Circuit Board Belt Buckle
Broken computer components can find new life as a hip fashion accessory. If a belt's not your thing, the defunct components can also be turned into funky jewelry, framed as art or made into drawer pulls. Geek out with our step-by-step instructions.
circuit board from a broken computer keyboard or other electronic device
soldering iron
ring hook buckle backs
1/8" rivets
rotary tool with cutting, sanding and buffing wheel
drill with 1/8" drill bit
rivet tool
Disassemble Electronic Device
Make sure that all power has been shut off to broken electronic device. Open device and remove circuit board.
Use cutting wheel to cut circuit board to desired size and shape. Create a smooth surface by removing any protruding hardware from board using thin cutting wheel.
Remove Points and Smooth Edges
Use a hot soldering iron to smooth out existing soldering points protruding from board, then smooth edges with sanding wheel.
Attach Buckle Back With Rivets
To attach buckle, center back on board, mark holes and drill through board. Use rivet tool to attach buckle back with rivets.