Adult Halloween Makeup Tutorial: Creepy Ragdoll
Go disguised as a ragdoll this Halloween. Our easy-to-follow step-by-step instructions will show you how to transform your look with makeup.
We're sorry, there seems to be an issue playing this video. Please refresh the page or try again in a moment. If you continue to have issues, please contact us here.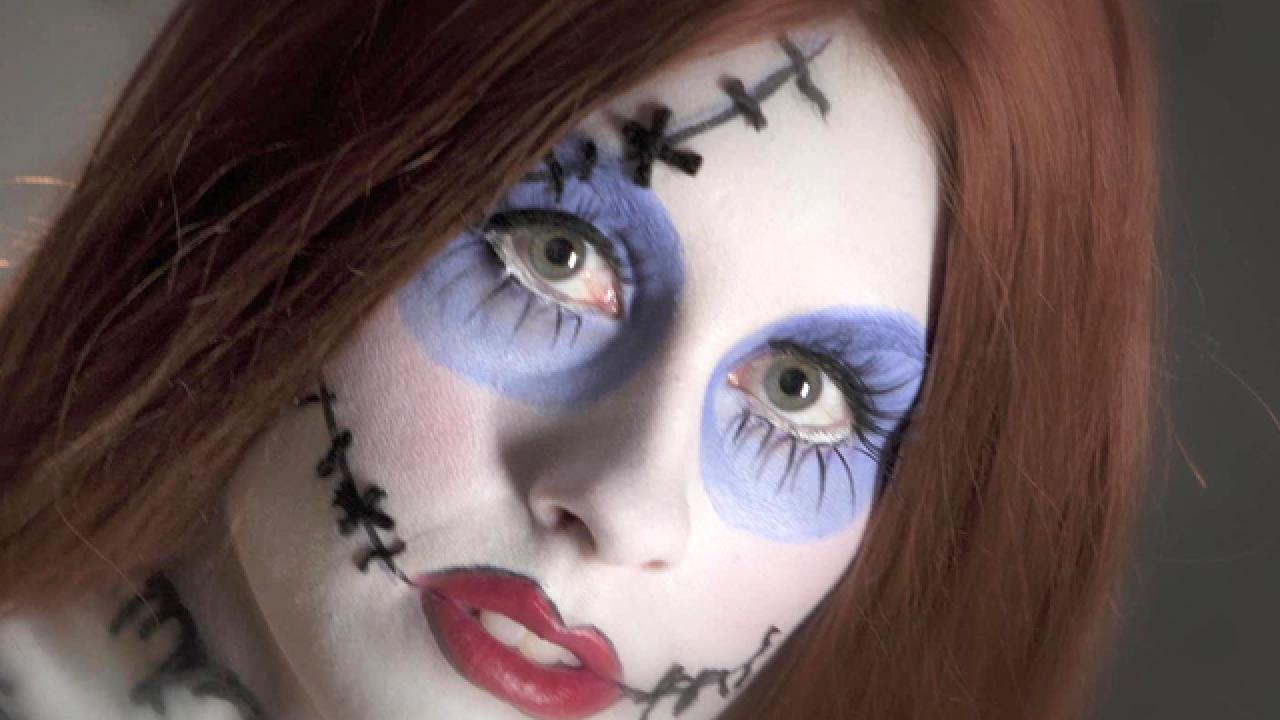 By:
Traci Hines,

Becky Sapp,

and

Jason Amos
dress made of random fabrics and patches
white or gray tights
bodysuit
striped socks or legwarmers
black heeled boots
white-, blue- or gray-colored cream foundation
white or light loose face powder
powder puff
pink blush
white pencil liner
sky-blue cream-based makeup
blue eye shadows (3 shades, light to dark)
black liquid eyeliner
eyelash curler
mascara
spidery false lashes
false bottom lashes
eyelash glue
black yarn
scissors
red lip liner and lipstick
long auburn wig
soft blush brush
Begin by covering entire face in a white, blue or gray cream foundation. Apply color with a sponge, and blot all over until you have the level of coverage you want (Image 1). Extend it down to the neck as well. Set with white or light-colored loose powder using a powder puff (Image 2). Add a touch of pink blush to cheeks using a soft brush (Image 3).
Line waterline, the inside of the lower lid, with white eyeliner. Put it on very thick and extend to the lower lash line (Image 1). Using a brush, dip into a pot of cream-based makeup color in a sky-blue shade. Create large circles surrounding the eyes starting at the eyebrows and continuing all the way around. Fill in the top half of the circle, covering eyelids, and begin to fill in the bottom as well — avoiding the area where you put the white eyeliner (Image 2). Once circles have been painted in, set with a quick dusting of powder (Image 3). Cover circles with blue eye shadow in a similar color. Use a slightly darker blue eye shadow for the top part of the circle and eyelid and a slightly lighter blue eyeshadow for the lower half of the circle to create a very subtle fade (Image 4). These circles will help give eyes the illusion of being extremely large.
Line the top lash line with black liquid eyeliner (Image 1), and paint a thin line underneath the white liner on the lower lash line. Use a darker gray-blue shadow to shade a tiny bit under the black line underneath eyes (Image 2). Curl your eyelashes, and coat top lashes only with black mascara (Images 3 and 4).
Apply spidery false lashes to the top, and a pair of shorter lashes under eyes where black eyeliner was applied (Image 1). Blend the top false lashes to real lashes with mascara (Image 2).
Using a black liquid eyeliner or black cream color, paint one line across forehead down into one of the circles around the eyes and out the other side (Image 1). Next, draw two "Joker"-style lines coming from the corners of your mouth going up the cheeks (Image 2). If you used cream makeup, set it with powder before moving on. Shade these lines using blue eye shadow (Image 3).
Take a ball of black yarn, and clip off tiny pieces to use as the stitches. Put a dab of clear eyelash glue on yarn or directly onto face, and place yarn across the lines created earlier (Image 4). The goal is to make them look haphazardly stitched, so place them at random with some crossing over each other, creating an X-shape. Place others alone as a single stitch (Image 5).
Line and fill in lips with red pencil. To make lips look asymmetrical, line outside of lip line on one side of top lip and opposing side on bottom lip (Images 1 and 2). Paint in lips with a matching red lipstick (Image 3). Use black liquid liner once more and line outside of lips to enhance the mismatched shape you've given them (Image 4). Finish the look with a long auburn wig and ragged costume (Image 5). Once dressed, match the rest of your skin with your face.