4 Stylish DIY Projects to Help Make Over Your Living Room
Spruce up your living space with these simple, yet stylish, DIY decorating projects from HGTV Magazine.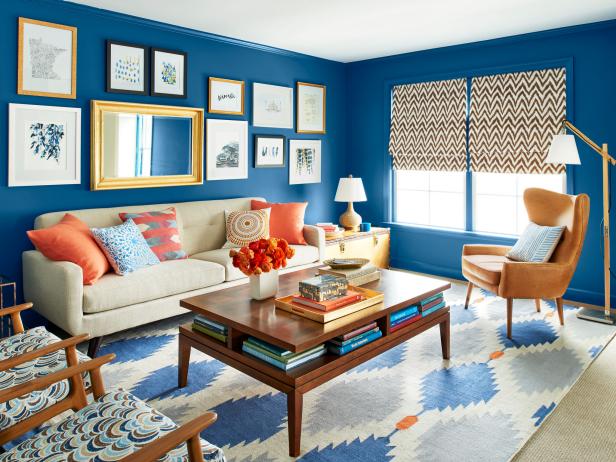 Blue Living Room
HGTV Magazine shows you how to completely make over a barebones living room.
Gold leaf transformed this mirror's ordinary wood frame.
Instructions:
Apply gold leaf to a wood-frame mirror following the gold leaf package's instructions.
An all-in-one pillow cover and stencil kit makes it easy to design your own throw pillows. DIY Accent Pillow kits (each kit includes paint, a stencil, a pillow cover, and an insert), $45 each, cuttingedgestencils.com.
Instructions:
Stencil the pillow covers following the pillow cover stencil kit's instructions.
All you need is a hot-glue gun, some twine, and a steady hand to cover a lamp base.
Instructions:
1. Remove the lampshade and set it aside. Place strips of double-stick tape around the base of a gourd lamp.
2. Wrap twine around the lamp base, hot-gluing it to the shade as you go.
3. Repeat steps 1 and 2 to wrap the finials at the top.
We refashioned this old trunk with metallic contact paper (Metal FX self-adhesive paper in brushed brass finish, $18 for 2 rolls, contactbrand.com), faux-leather trim, nailheads, and new hardware.
Instructions:
1. Remove the hardware and any extra wood molding, to make the trunk's surface flat.
2. Cover all sides of the trunk with gold contact paper.
3. Affix faux-leather trim to the borders with spray mount.
4. Hammer in the nailheads, spaced equidistantly apart.
5. Attach new latches and corner hardware.