A healthy yet hearty dish packed with greens, squash, fresh herbs and a punchy vinaigrette, this salad can be served as a main or side dish.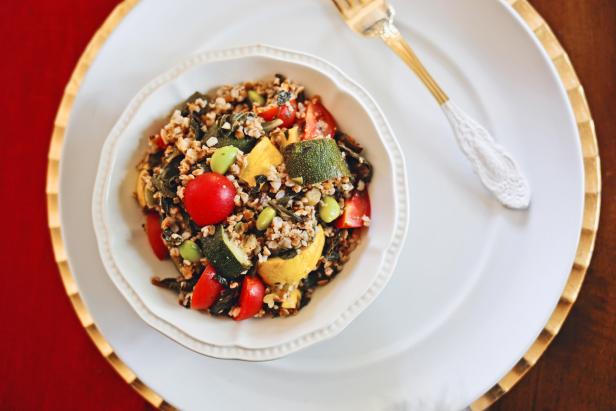 Winter Grain Salad
Try this healthy yet hearty dish packed with greens, squash, fresh herbs and a punchy vinaigrette that can be served as a main dish or a side dish at a big holiday feast. [Get the recipe>>](http://www.hgtv.com/design/make-and-celebrate/entertaining/winter-grain-salad?syc=applenews_hgtv-christmas-dinner-recipes-for-the-novice-host)
quick-cooking bulgur wheat (or substitute with farro or quinoa)
chicken or vegetable broth (optional)
3-4 tablespoons mint, chopped
3-4 tablespoons flat parsley, chopped
1 container (9 ounces) edamame peas
1/2 cup cherry tomatoes, halved
1 bunch collard greens, chopped into thin ribbons
2 garlic cloves, minced
1 shallot, diced
3 squashes (we used zucchini and yellow squash)
Champagne Vinegar Dressing Ingredients
1/4 cup olive oil
juice of 1/2 lemon
4 tablespoons champagne wine vinegar
1 tablespoon whole grain Dijon mustard
cracked pepper to taste
1: Bring 1 cup bulgur to boil in 2 cups water. Cover at a simmer for 15 minutes. Use half water and half chicken or vegetable broth for extra flavor if desired.
2: Saute chopped garlic and shallot in skillet with olive oil for 5 minutes until just soft. Add in collard greens and saute for an additional 5 minutes until wilted.
3: Cut squash in half lengthwise, and place on a grill or bake at 350 degrees F for 5-10 minutes until just soft. Set aside.
4: Chop remaining vegetables into bite size pieces, and toss all herbs and ingredients together with dressing in a bowl. Serve cold or warm.
Note: You can make this a day or two ahead.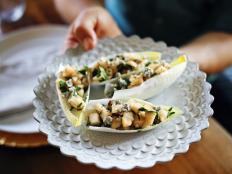 These endive cups, filled with sweet and savory pear gorgonzola salad, are a flavorful way to kick off your evening of joyful celebration.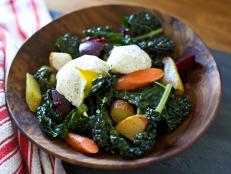 Take a healthy approach to brunch with a colorful kale salad featuring tangy vinaigrette, poached eggs and roasted vegetables and pears.