Tuna Nicoise Tea Sandwiches Recipe
Our twist on the French pan bagnat is perfect for your next gathering -- inside or out.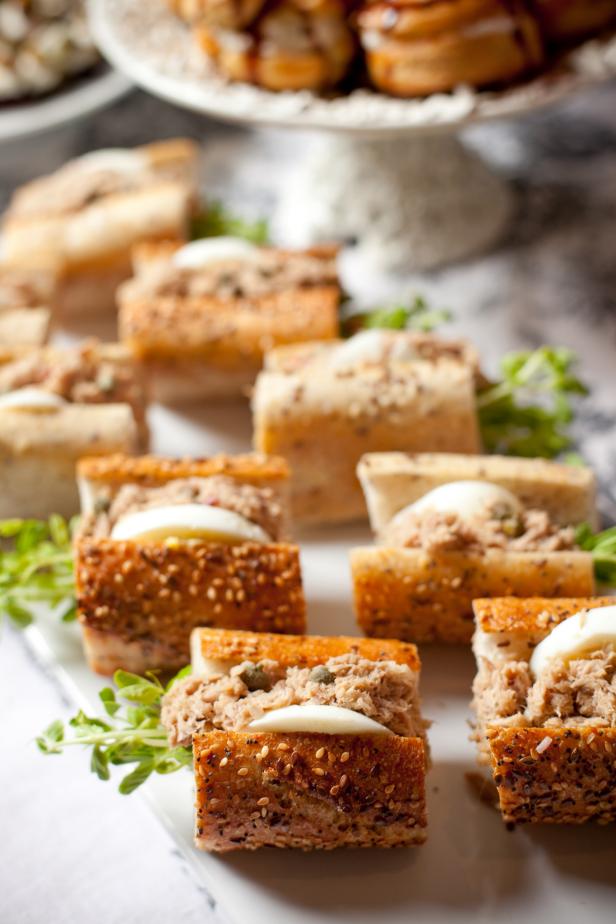 French-Themed Baby Shower Recipes
Host a fabulous French-themed baby shower with these petite treats.
3 large eggs
2 tablespoon red wine vinegar
5 tablespoons extra-virgin olive oil
1 medium shallot, grated
2 tablespoons capers
kosher salt
freshly ground black pepper
(2) 6-ounce cans chunk white tuna, drained and flaked
(2) 24-inch long multigrain baguettes
1 small bunch watercress or sprouts
1 cup lettuce
1. Place the eggs in a medium pan of cool water. Bring to a low simmer and cook the eggs for 10 minutes, stirring to ensure even cooking. Drain the eggs and rinse under cool water to prevent further cooking. Peel the eggs and set aside until completely cool. Slice thin crosswise.
2. Place the vinegar in a small stainless-steel bowl. Slowly whisk in the olive oil. Add the capers and shallots. Season with salt and pepper to taste. Add the tuna and toss to combine.
3. Split each baguette lengthwise without cutting all the way through. Fold the loaves open like a book and arrange the watercress or sprouts along the inside. Spoon the tuna mixture evenly onto the lettuce, and top with the egg slices. Close the baguette and cut each into twelve 2-inch sandwiches.
Yield: 12 small sandwiches