Tipsy Hibiscus + Green Tea Cocktail
Rich in antioxidants and full of flavor, this bourbon-based cocktail is both good for you and good for what ails you.
6-7 medium lemons (for simple syrup)
2 cups water
1 cup sugar
3 hibiscus tea bags
3 green tea bags
1 cup bourbon (or your favorite spirit)
1 cup pomegranate juice
citrus juicer or reamer
1 lemon (for garnish or use leftover rinds)
optional: mint leaves (for garnish)
Serves 6
In the microwave or on the stove, bring 4 cups of water to a boil. Remove from the heat and add 3 of each tea bag (hibiscus and green) to steep for 4-6 minutes, then remove the tea bags. Set aside and allow the tea to cool.
Thoroughly wash lemons, removing any surface pesticides. Cut in half, then using a citrus juicer or reamer, extract 1 cup of lemon juice. Note: If your juicer is particularly effective or if your lemons are extra juicy, more juice is fine, it'll just add a bit more zing to the finished cocktail.
In the microwave or on the stove, bring 2 cups of water to a boil. Add 1 cup of sugar (Image 1) and stir till thoroughly dissolved. Finally, stir in the lemon juice (Image 2).
Make Sugared Lemon Twists
Using a paring knife, cut lemon into slices (Image 1). Cut the rind off of each slice to create long, thin strips (Image 2). Finally, twist them into the garnish's signature shape (Image 3) and dip into a shallow dish of sugar (Image 4).
In a pitcher, combine the cooled tea (Image 1), pomegranate juice, lemon simple syrup (Image 2) and 1 cup of bourbon (which equates to a little less than a shot/serving) and stir to combine the ingredients (Image 3).
Pour cocktail into ice-filled glasses. Garnish with a sugared lemon twist, bit of fresh mint and a colorful straw. Enjoy!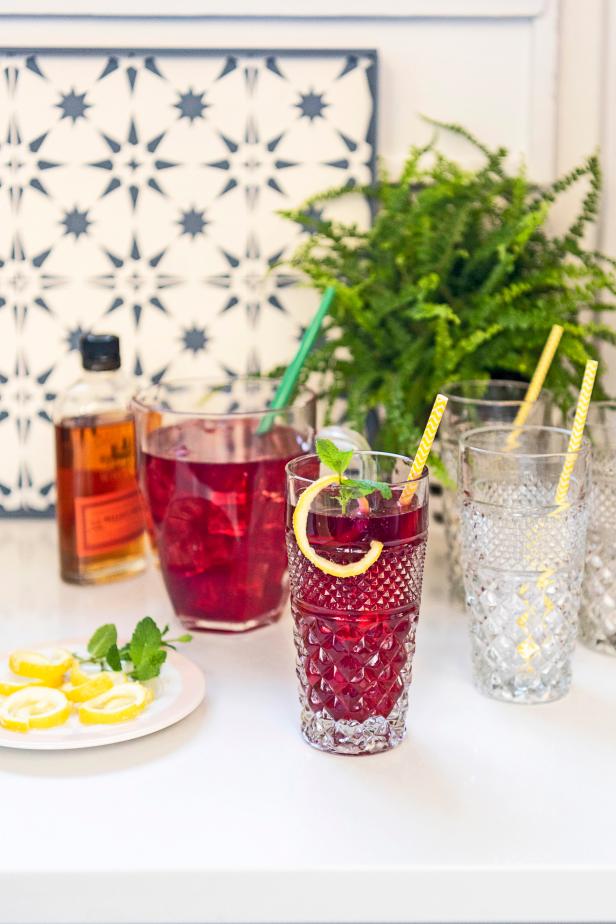 Sarah Busby; Styling by H. Camille Smith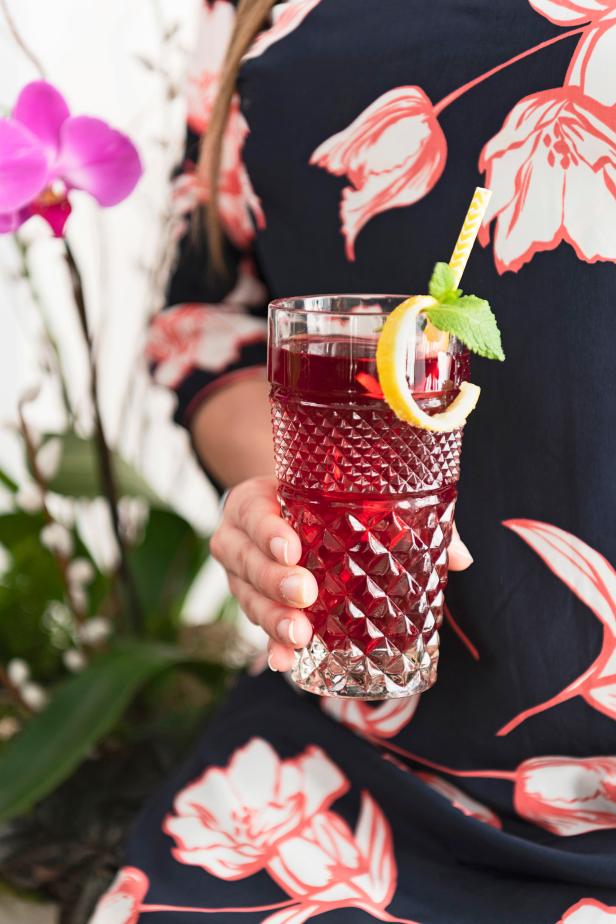 Sarah Busby; Styling by H. Camille Smith