Sweet Churros and Chocolate Skewers Recipe
Be an entertaining superhero with churros and chocolate. The perfect churros will be crispy on the outside and soft and gooey on the inside. Paired with sipping chocolate, they make the perfect bite-sized dessert.
4-5 churros
8 short wooden skewers
1/3 cup heavy cream
1/4 cup whole milk
1 tbs. corn syrup
1/4 tsp. fine salt
2 tbs. water
2 tbs. unsweetened cocoa powder
6 oz. semi-sweet chocolate, coarsely chopped or chips
1 tbs. unsalted butter
1/2 tsp. vanilla extract
Cut the churros into 1" pieces with a serrated knife. Add three bite-sized pieces to each of the 8 skewers. Set aside.
Heat the cream, milk, corn syrup and salt in a medium saucepan over medium low heat. Stir the cocoa powder and water together in a small bowl to make a paste. When the liquid is hot, but not boiling, add the cocoa paste, semi-sweet chocolate and butter. Allow the chocolate to melt, untouched, for 5 minutes. Add the vanilla and whisk until smooth.
Pour the sipping chocolate into the bottom of each of the shot glasses, filling only halfway. Add a skewer with churros to each glass and serve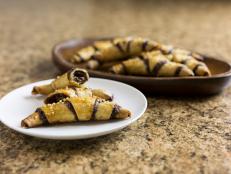 Your guests will go wild for these tiny croissant treats made with pie crus and hazlenut spread. The process is so easy, and the result is chocolatey goodness.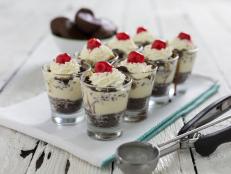 These brownie sundaes are just a few bites of decadence that your guests are sure to appreciate. Make them ahead and put them in the freezer, and then just top with whipped cream and a cherry to serve.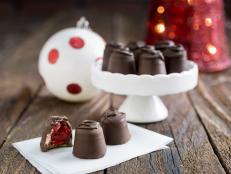 These holiday favorites are made with the help of ice cube trays.