Honey-Glazed Ham Breakfast Sandwiches
Turn leftover honey-glazed ham into a savory breakfast sandwich by using buttermilk biscuits, arugula and honey Dijon mustard.
Yield: 10-12 biscuit sandwiches
2 cups all-purpose flour
1/2 teaspoon baking soda
1 1/2 teaspoons baking powder
1 teaspoon salt
8 tablespoons butter, cold, cut into 1/2-inch cubes
3/4 cup buttermilk, plus more for brushing
For serving:
12 slices honey-glazed ham
1 jar honey Dijon mustard
2 cups baby arugula
1. Preheat oven to 375 degrees F.
2. Sift the flour, baking soda, baking powder and salt together into a bowl.
3. Cut in the butter using a pastry blender or your hands until it's the texture of coarse crumbs.
4. Make a well in the center, and add the buttermilk.
5. Use your hands to fold the dry ingredients into the buttermilk until a sticky dough forms.
6. Turn out onto a floured surface, and gather it into a rectangle.
7. Press dough until the rectangle is 1/2-inch thick.
8. Dust a round 3-inch cookie cutter with flour, then carefully cut out the biscuits.
9. Chill in the fridge for 20 minutes, then place each biscuit on a parchment-lined baking sheet, at least 1 inch apart.
10. Brush tops with buttermilk. Bake for 25 minutes until tops are golden brown.
11. Slice each biscuit horizontally, and arrange on a platter with ham, Dijon and baby arugula. Let guests assemble their own sandwiches.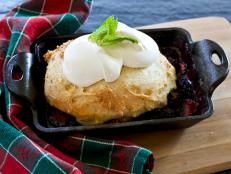 Celebrate your holiday morning with dessert. This berry cobbler gets a makeover with the addition of fresh mint and fluffy biscuits.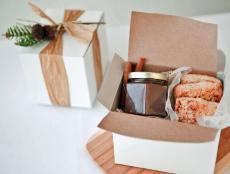 This is the perfect favor for a late-night holiday party. Send your guests home with a ready-made breakfast for the morning after the soiree. It works equally well as a thoughtful hostess gift.