Hard Cider Roast With Sage Vegetables
Easy to prep and filled with unique aromatic flavors of cider and sage, this roast will be the star of your holiday dinner.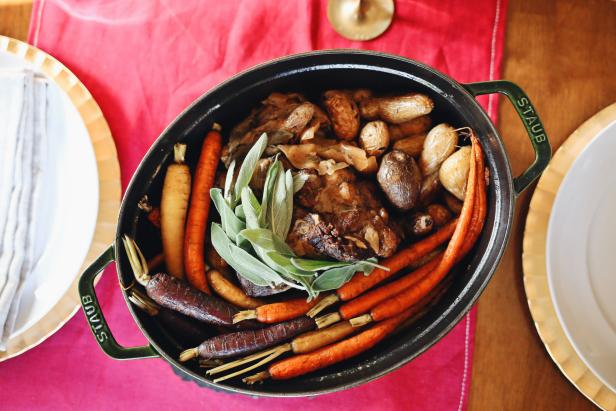 Hard Cider Roast
Hosting your first holiday supper shouldn't be stressful, and this roast will be the star of the table. Easy to prep and filled with unique aromatic flavors of cider and sage, you'll be wishing for leftovers before the dishes are even washed. [Get the recipe>>](http://www.hgtv.com/design/make-and-celebrate/entertaining/hard-cider-roast-with-sage-vegetables?syc=applenews_hgtv-christmas-dinner-recipes-for-the-novice-host)
3 pounds chuck roast
1/2 large yellow onion, roughly chopped
3 shallots, roughly chopped
1 bulb garlic
grape seed oil
2 bunches of fresh sage
2 cups hard cider
2 cups beef stock
2 bunches of heirloom carrots
2-3 pounds small- or medium-sized heirloom potatoes
salt, pepper and olive oil to taste
1: Preheat oven to 325 degrees F. On the stovetop, heat a cocotte or dutch oven on medium high heat with 2 tablespoons grape seed oil. Brown all four sides of your chuck roast, approximately 2-3 minutes a side, and set aside on a plate.
2: Saute onion, shallots and 6 cloves of garlic in the same pot until golden.
3: Place chuck roast back into the pot on top of the sauteed vegetables with 1 bunch fresh sage scattered around.
4: Cover with 2 cups hard cider and 1 cup beef stock (reserve second cup of stock as needed). Roast at 325 degrees F for 4 hours or until center temperature reaches 145 degrees F, checking on the hour to see if more liquid is needed.
5: Before roast finishes, place whole potatoes, carrots, a few sprigs of chopped fresh sage and 4 bulbs of roughly-chopped garlic on a separate baking sheet or roasting dish. Rub with olive oil and sprinkle with salt and pepper. Roast for 30-45 minutes until soft.
6: Before serving, drain any extra liquid and a small portion of cooked onions into a bowl for the gray, and lay roasted potatoes and carrots around the roast. Top with roughly chopped fresh sage, and serve directly from dish.