Green Bloody Mary Martini
An unexpected spin on your brunch-time Bloody Mary, this green heirloom tomato martini will become a new weekend favorite with its peppery spirits and earthy flavor.
2 green heirloom tomatoes
3 ounces pepper-flavored vodka
1/8 teaspoon celery seed
1/2 teaspoon olive juice
Castelvetrano green olives, for garnish
Make green tomato juice by blending roughly-chopped green heirloom tomatoes in a food processor, and strain through a fine mesh strainer or towel to remove any pulp.
In a cocktail strainer add vodka, celery seed, olive juice and green tomato juice. Shake vigorously over ice. Strain into a glass, and garnish with an olive.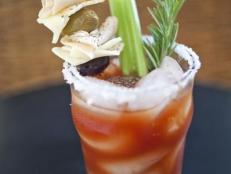 Add a twist to the classic Bloody Mary cocktail by adding stout and Irish whiskey.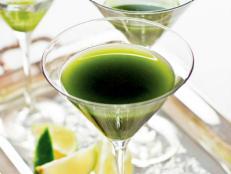 The grassy notes of the matcha balance perfectly with the flowery botanicals of the London dry gin in this very "green" cocktail. It's a bit tart, a bit sweet, a bit unusual and very tasty.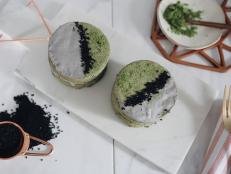 These green tea matcha cakes, filled with sweet yet woody black sesame cream, are almost to pretty to eat.