Goat Cheese and Pistachio Grapes Recipe
Hollow out red grapes and stuff with goat cheese for the perfect bite-sized snack at your next gathering.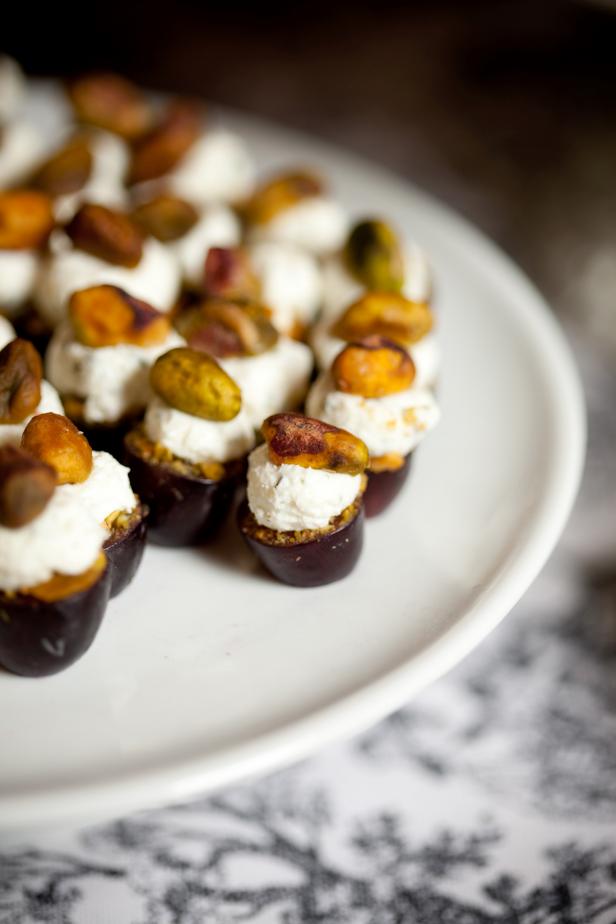 French-Themed Baby Shower Recipes
Host a fabulous French-themed baby shower with these petite treats.
1/2 cup salted pistachio nuts, toasted and finely chopped
24 red grapes
8 oz goat cheese

1. Using a sharp knife, slice the grapes in half crosswise. Trim the uncut sides of each half just enough to achieve a flat bottom so the grapes do not roll around.
2. Using a small melon baller, gently scoop out the flesh and seeds of the grape, leaving enough flesh to keep the grape stable and firm. Repeat with the remaining grapes and store cut-side down in single layers on damp paper towels, tightly covered, in the refrigerator until ready to use.
3. Using a tiny spoon, scoop a bit of goat cheese into each grape. Place the nuts in a small bowl. Dip the rim of each grape into the nuts. Cover and chill until ready to serve.