David Stark shows three fun, easy and affordable ways to transform an ordinary tabletop into a magnificent setting for any event.
Having a party? Transforming your table into a showpiece is easy and affordable. Here are three ways to do it:
To create a vibrant and colorful look, a table is covered with glasses of different sizes filled with colorful sports drinks (food coloring stains glass). Add colored glass plates and use large glass marbles as the finishing touch on top of napkins wrapped simply in ribbon.

Plain glass cylinders lined with paper, covered with stickers and topped with a floral cage create funky vases for masses of carnations. Feathers tied together with wire top each arrangement for a whimsical touch.

Wide ribbon pinned around the base of several sheets of wheat grass (available at health-food stores) and flowers tucked inside water tubes create a garden-themed tabletop.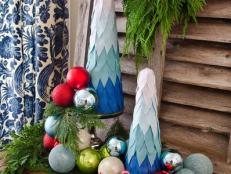 Transform foam tree forms into colorful holiday decorations with just felt and hot glue. Layer shades of the same color to create a modern ombre effect or use a solid color for a more traditional look.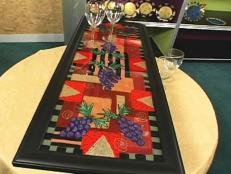 This decorative tabletop/wine bar calls for both technique and imagination. Learn how to make a tabletop with the reverse-painting technique.