DIY Edible Floral Ice Bucket
Keep your rosé chilled and your summer theme on point.
Materials and Tools Needed
scissors
plastic container
jar
Gather edible flowers (Image 1), and cut the top off a plastic container (Image 2).
Insert the jar in the center of the container. Place flowers along the edge (Image 1), and fill the container with water (Image 2). Arrange the blooms around the mold (Image 3), and place the container in the freezer overnight.
Take the ice bucket out of the freezer, and run warm water around the outside of the container to release the ice sculpture (Image 1). Pour warm water inside the jar to release the mold (Image 2).
Place your favorite chilled wine inside the bucket, and display at your next party.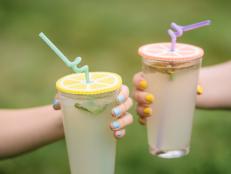 Quietly steal your kids' Perler beads, because we've got a DIY you'll want to make ASAP. Turn your favorite summer designs into drink covers that double as coasters. Party on!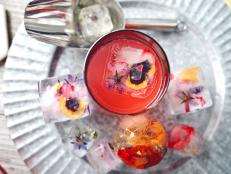 Turn the pretty up a notch at your next party.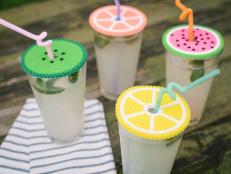 Remember Perler beads? They'll be the hit at your next summer party.