A Burger's Best Friend: Bacon-Onion Jam
Say hello to your new favorite cookout condiment. Whether you're making sliders or backyard burgers, this recipe is sure to impress.
6 slices hickory smoked bacon
2 pounds yellow onions
1 tablespoon minced garlic
4 tablespoons unsalted butter
1/2 teaspoon kosher salt
1/4 teaspoon cracked black pepper
1 tablespoon aged balsamic vinegar
Dice bacon slices into 1/2-inch pieces and reserve. Cut onions into quarters. Then, cut the quarters into thin, 1-inch julienne slices.
Preheat saute pan to medium, and render bacon until crisp. Once bacon is browned, add onions and butter. With heat on medium, caramelize onions, stirring often for five minutes. Cover pan, set timer and let cook for eight to 10 minutes. Uncover, and add garlic, stirring frequently. Scrape down all sides until golden brown in color, about five minutes. Add balsamic, salt and pepper, and cook three minutes until it evaporates.
Top it on your favorite burger, or let cool and reserve for up to three days.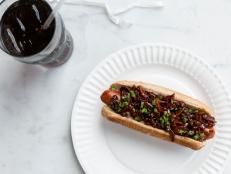 A splash of vanilla bridges the gap between salty bacon, sweet brown sugar and hot, grassy dried chiles in this easy but masterfully balanced recipe.