The Glam '70s Style of 'American Hustle'
Production designer Judy Becker talks about creating two of the film's most notable – and wildly different – sets: the sleek and sophisticated apartment of Sydney Prosser (Amy Adams), and the over-the-top ranch house of Rosalyn Rosenfeld (Jennifer Lawrence).
Directed by Oscar nominee David O. Russell, American Hustle is a fictional film set in the mesmerizing world of one of the most surprising scandals of the 1970s. Russell relied on longtime collaborator Judy Becker, a production designer who he also worked with on The Fighter and Silver Linings Playbook, to create the look he desired for the film.
Russell's concept for the themes of Hustle added several layers that made the project especially intriguing for a designer: Because the characters are running a con, the designs would not only show who the characters are, but also who they are pretending and aspiring to be. Becker's approach is best seen in the contrast between Sydney's (played by Amy Adams) sophisticated New York apartment and Rosalyn's (Jennifer Lawrence) over-the-top Long Island home.
Read on to find out how Becker's research, combined with the screenplay, inspired her to build unique worlds for the characters.
Of the houses, what was your favorite room on set? Why?
I definitely had a few favorites, but I think Sydney's living room/kitchen was one of my tops. It had such a calming, classic, timeless, sophisticated feel, and some of the elements (such as the yellow bentwood stools) were based on my own childhood memories. In fact, we still have the stools at my family summer house!
She lives on the Upper East Side in a white brick building – common for single girls of that era. We created a more minimalist look: Where Rosalyn had gold, Sydney has a sunny yellow; where Rosalyn had wallpaper, Sydney has neutral grasscloth. It's sexy – the apartment of a woman who would look cool at Studio 54. When one of my assistants saw the apartment, he walked in and said, "Wow, I wish my girlfriend had an apartment that looked like this," and that's the feeling that we wanted that apartment to have.
They are really contrasting worlds – what was interesting was that we used similar palettes, textures and materials, but completely different taste levels for those two sets.
What was the biggest challenge with a period piece like this?
We shot the entire movie in Boston and the surrounding area and we had a large number of sets – both built and location – around 140. It was challenging at first to find a way to transform a very old New England city into 1970s Manhattan and environs. But as the location scouting process proceeded, I found that the area was a goldmine of period architecture. We found a whole section of Medford with some relatively untouched 1960s ranch houses (where we shot Rosalyn's house), and our biggest discovery was Worcester, which had a multitude of period buildings, a grid-street design much more similar to Manhattan than Boston, and a wonderful art museum with an astonishing collection of old masters.
Where did you shop for items?
My set decorator, Heather Loeffler, sourced the items in a huge variety of places, such as eBay, estate sales ranging from Boston to Washington, D.C., thrift shops, local midcentury vendors, and 1stdibs.
How did you pick the location for the homes?
Our main goal was to find homes and buildings that were both transformable into the period, and resembled the architecture we needed, whether of Manhattan, Long Island, Camden, or Atlantic City. Sometimes we had to piece together several locations to create one set. For example, the Atlantic City Casino is a combination of the Wang Theatre in Boston, the train station in Worcester and two stage sets.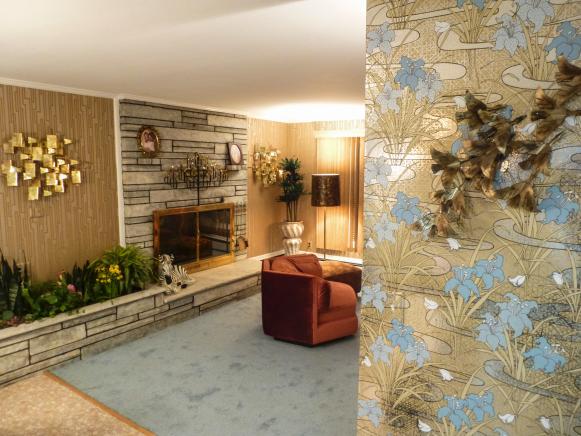 Rosalyn's Family Room in 'American Hustle'
Every inch of the house was covered in vintage foil-patterned wallpaper, carpeted, furnished and switched out with vintage appliances. "It may not be tasteful, but it's a feast for the eyes – and tells you immediately who Rosalyn is," says production designer Judy Becker.
Alex Linde, © 2013 Annapurna Productions
For Rosalyn's house, where was that shot?
We shot Rosalyn's house in Medford, Mass. We scouted many ranch houses in that area, and were attracted to this one because of its layout. Ninety percent of it had been renovated, but we completely transformed it, covering every surface with paint, wallpaper or carpeting, adding completely new furniture and appliances, and leaving only the original stone fireplace.
For Rosalyn's house, the character is a stay-at-home mom and housewife, a woman who clearly enjoys decorating and maybe enjoys decorating too much! Everything is based on reality and our research, but it looks a little over the top: We made extensive use of foil-patterned wallpaper, different patterns, furniture from the Pace Collection, and custom-made engraved Lucite screens. It may not be tasteful, but it's a feast for the eyes – and tells you immediately who Rosalyn is.
When you have to completely change a home, do you worry the owners will not be happy?
Of course, I am always extremely careful about discussing prospective work with the owners, and to reassure them that anything we do will be restored. Restoration is a big part of our workload, and one that not many people know about since it does not appear onscreen!
Alex Linde, © 2013 Annapurna Productions
What do you like about 1970s decor that is no longer as relevant these days?
I like the simplicity. I would say that before the mid-1980s, people simply didn't own as much "stuff." And of the things that they did own, there seemed to be a tendency to repair instead of replace, and not to buy into every new design change. Whenever I research a period movie, I see how much simpler interiors were – you rarely see piles and layers of objects the way you do in more contemporary times.
Did any actor want to take the decor home with them?
Amy Adams loved many of the pieces in Sydney's apartment, and we were happy to have them so appreciated! They ended up being a gift to her from the production. (A woven and macrame artwork that hung in the dining area, the wicker screen from the bedroom, and the Milton Glaser poster from the bedroom).
When you weren't shooting, did any actor get on the exercise bike that was part of the home set?
I'm guessing no – but I wasn't there every minute!
Do you have anything 1970s-ish in your own home?
I have a lot of 1970s design in my apartment, including several pieces I bought from American Hustle. I bought a Brutalist cabinet and lamp in the style of Paul Evans that were in the London Associates office. I also have a large Mastercraft burl wood Parsons-style table, and a Curtis Jere "Raindrops" wall sculpture.
Where do you work in your own home? What does the process look like to the observer?
I live with my husband and a huge collection of reference books in a two-room Manhattan apartment, so my office is the above-referenced burl wood table in my kitchen, a vintage task lamp I bought in Los Angeles, my computer, books and iced coffee.