Inside the Mod Sets of Showtime's Masters of Sex
Production designer Michael Wylie shares how he brought timeless midcentury style to this period drama, which stars Michael Sheen and Lizzy Caplan.
If you're a fan of Showtime's period drama Masters of Sex, which is based on the lives of research team William H. Masters and Virginia E. Johnson, you've probably admired Dr. Masters' beautiful vintage midcentury modern home. Emmy Award-winning production designer Michael Wylie, also known for his work on Californication and Pushing Daisies, talked about the challenges of designing sets for the period series.
What was your vision for the homes on set?
The tone of the show was set by Andrew Jackness, who received a 2014 Emmy nomination for his work on the pilot. They used a location in New York for Dr. Masters' house. It was a beautiful midcentury modern house on a lake with huge windows. When the show came to Los Angeles, we had to build the house on the stage and take into consideration not only the look of the set, but how the set was meant to be shot and make that easier for the crew. We changed the layout of the building and a lot of the colors, and we put gigantic curtains on the windows to hide the stage walls.
The true vision of the set is to make the audience understand that Dr. William Masters is in charge of everything. The house has a modern aesthetic that never waivers. It is his house, and you can barely get any sense that anyone else lives there, let alone a woman. There is almost no evidence that a woman (and now a child) lives in that house. It had a sterile feel to it. But since it's a television show and not a documentary, we added lots of 1950s colors and used color combinations that were not only well-used at the time, but also make for great contrasts on your TV screen, like blue with orange.
For Virginia Johnson, we took a very different approach. She does not/did not plan her life out. She makes do and she makes things work. So we gave her an apartment that looks like it's from an era much earlier than the one we are in. It's as though someone's granny was taken out feet-first and she moved in the same afternoon! There is tons of wallpaper and 1920s- and 1930s-inspired furniture. In contrast to Bill, there is a warm, family vibe in the house. Even if it is the remnants of what someone's granny left behind!
What is your favorite room on set?
In the Masters house, I love the new baby's room. It's cute but follows along with the stark Scandinavian feel of the rest of the house. It is very cold and impersonal, yet really nice looking. Virginia's bathroom is my favorite in her house. It's pink and just awful looking. It would be the first thing you ripped out when you bought the place, but it feels really old-fashioned and that's what we wanted for her.
What colors, textures and fabrics were you drawn to?
I really grew to love 1950s things a lot more after starting this show. People were just starting to have extra money to play with, and the designs of products that were made to fill that market had an exuberance and real style. It's the same thing with the fabrics. They tried everything including new types of fabrics. The innovation was amazing. The colors were bold and the sense of humor was high. It is part of the reason the 1950s are so revered.
Where do you like to shop for home-related items for the set and for your own home?
Our great set decorator, Halina Siwolop, and her shopper, Eva Firshein, buy and rent all of the set dressing for the show. They, along with Jeffery Paul Johnson, the prop master, find things all over the place. We have huge prop houses in town that rent us a lot of stuff we use. But we also use eBay a bunch and another site called Etsy. They are invaluable resources, and they don't have to run all over this horribly congested city to find great stuff.
In my own home, I have a very eclectic sensibility. There are 200-year-old English antiques next to a modern table with found objects on it. I also use eBay a lot for my insatiable collecting of vintage paint by numbers and black Jasperware Wedgwood bowls.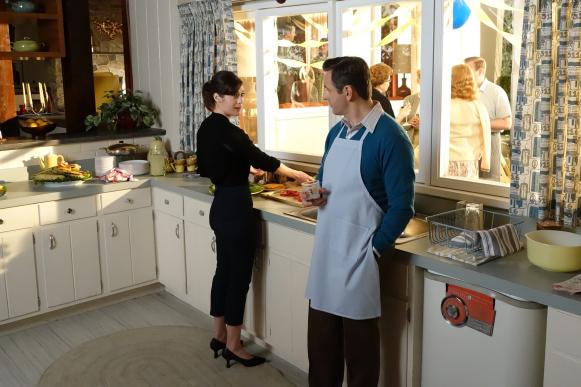 Kitchen: Showtime's 'Masters of Sex' Set
Virginia Johnson (Lizzy Caplan) and William Masters (Michael Sheen) cook in Dr. Masters' midcentury modern kitchen. Production designer Michael Wylie based this set on his own home. "I literally took pictures of my 1957 midcentury modern kitchen and gave them to the person who draws the plans," he said.
What was your thought process in designing the kitchen?
The kitchen looks exactly like the one in my house. I literally took pictures of my 1957 midcentury modern kitchen and gave them to the person who draws the plans. Los Angeles has a great tradition of preserving old houses. I know 1950s isn't old in the grand scheme of things, but it is here, and people are great about adding modern touches to old houses, and yet preserving the overall feel of the original. This really helps us in designing and shooting the show because we know what things looked like. It's still here.
What are the challenges in designing for a period drama like this?
The biggest challenge is simply going outside. The minute you step onto the street, a whole lot of things look wrong. Traffic looks wrong. Signs look wrong. Buildings look wrong. There is a lot to do. But one thing we noticed right away was that if you take any nondescript street and add the beautiful old cars, it becomes 1959 right before your eyes. The transportation department finds all of these old cars and brings them to the set and one starts to not notice the modern street signs so much, or the streetlights or plastic trashcans that sometimes get left in the shot. Add in the beautiful costumes by Ane Crabtree and you have a winner!
How would you describe your own interior design style?
What drew you to your home?
The favorite part of my house is the view. I live high up in the Hollywood Hills, and I see the Hollywood sign just above me on one side and the sprawling San Fernando Valley on the other side, with the mountains in the background. I spend a crazy amount of time in the backyard.
What are some must-have items in your home?
The must-haves are a well-stocked rolling bar cart, lots of comfortable seating outside, day beds, anything I can get my hands on by Keith Haring, and crystal decanters.