Big Brother: Inside the Colorful, Contemporary Season 16 House
This season's "Urban Treehouse" features a contemporary design with inspiration from the elements. (You don't want to miss the "fire bedroom" or the "water bathroom.") Production designer Scott Storey shares his insight behind the season 16 home.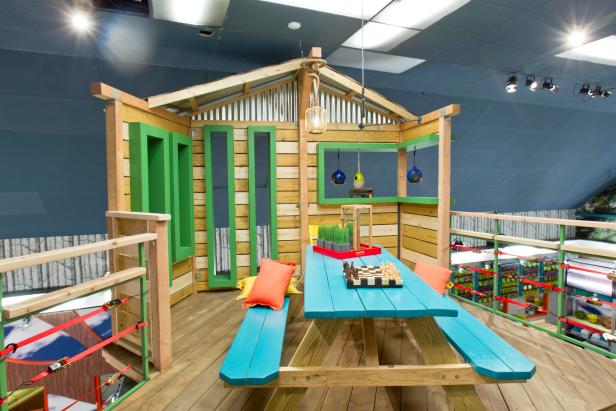 Treehouse: Big Brother House, Season 16
Since the theme of the Big Brother house this season is "Urban Treehouse," production designer Scott Storey built an actual treehouse on the second floor. "It's a contemporary take on the traditional treehouse," he says. "We painted the picnic table a bright teal."
Sonja Flemming/CBS ©2014 CBS Broadcasting, Inc. All Rights Reserved
Everyone's favorite guilty pleasure, the uber-popular CBS reality series Big Brother, is back for its 16th season. Who can resist watching total strangers live together in a house full of high-definition cameras and microphones? HGTV spoke to production designer Scott Storey about the impressive, nature-themed house where the contestants will eat, sleep and play this summer.
What is your theme this year for the Big Brother house?
This year's theme of the house is "Urban Treehouse."
How do you pick the theme for each year?
Every April, I meet with the executive producers and pitch a few different concepts. "Tokyo Pop," "1964 World's Fair" and "Through the Looking Glass" have been some past concepts. I discuss what I think these concepts would look like and we all choose one from my list. I like to make the house look and – more importantly – feel different every season.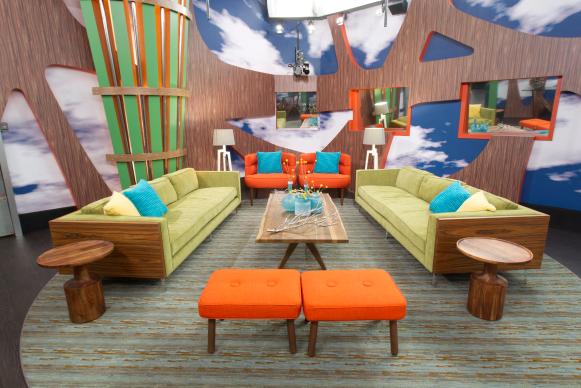 Living Room: Big Brother House, Season 16
"A 20-foot-tall contemporary tree sculpture is the focal point of the living room," says production designer Scott Storey. "Behind the tree, and throughout the house, is a contemporary branch design nestled in a blue-sky backdrop. It's as if the houseguests have a bird's-eye view from a tree looking through the branches and into the sky." "The green and wood structure representing the tree was built from wood and steel at a set construction shop and trucked into the house," Storey adds. "The abstract wood shapes on the wall evoke the feeling of tree branches, with the blue sky behind them. The sofas are from a store called ModShop here in L.A. I also used big tree trunks as tables and such."
Sonja Flemming/CBS ©2014 CBS Broadcasting, Inc. All Rights Reserved
What are some favorite colors, textures, fabrics you like to use?
I don't have any personal favorites; I change my style for each show I design. Last season, Big Brother was styled with the 1964 World's Fair in mind, so I was working with midcentury furniture, brass and wood, and deep jewel tone colors. This season, I wanted a more playful home and something that was based more in nature, so you will see the color green dominating the set and unfinished surfaces throughout.
Are there any special considerations you have to take into account when designing a room for TV?
Designing for television is entirely different than any other sort of design. While I need to be aware of angles and shots in all directions, I also have to consider all the technology used to get the show in the can. Lights, cameras, microphones and speakers – so many different crews with different needs "move into" my set when I am done, and everyone has certain needs that have to be met.
What does/doesn't work on camera?
Television is changing as the technology improves. Big Brother is now in high definition; it has been in standard definition before this season. That impacts the attention to detail, it lowers the level of lights needed to shoot, and that means I can use brighter colors. Patterns in fabric and in wallpaper are always tricky to work with on television; in some instances they can moiré on camera and look like they are vibrating.
Sonja Flemming/CBS ©2014 CBS Broadcasting, Inc. All Rights Reserved
Tell me about some of the highlights in each room.
When I design the house, I keep coming back to this year's theme. So when it came to the bedrooms, I thought about the treehouse, and thus nature. So, each of the rooms is based on an element. I have an "earth" room, a "wind" room and a "fire" room. (Yes, Earth Wind & Fire, like the band!) The bathroom is a "water" room. There is even an actual treehouse on the second floor. The earth room is so massive, with all the carved stone walls. It was tricky to come up with a look for "fire", so if you look closely you will notice that the wood slats on the walls have all been burned – we really burned the lumber with a roofing torch before we built the room. I have match sticks in the lamps and fire alarm bells on the walls, so it wasn't really "fire," but more "what fire can do."
The bathroom has a lovely simplicity to it. Because the bathroom was my "water room," it should feel like you are in a pool of bubbly, cool water. The bathroom is always a very popular room!
What do you like about the kitchen/hallway?
The hallway between the kitchen and the bathroom is built simply from different sizes of lumber with a nice stain/wash and seal over them. I think it looks great; one of the guys on my team (Scott Welborn) chose those colors. The palette is pulling from a green and natural base. When designing the kitchen, I wanted something that felt like it was in a treehouse, no decoration for decorations' sake. It is all very industrial and honest with open shelving and professional equipment.
We can't wait to see the Head of Household room! Can you give us a sneak peek?
The HOH (head of household) room has nearly 1,000 birdhouses on one wall, and a queen sized "nest" as a bed.