Get a glimpse at the Grimm actor's life at home.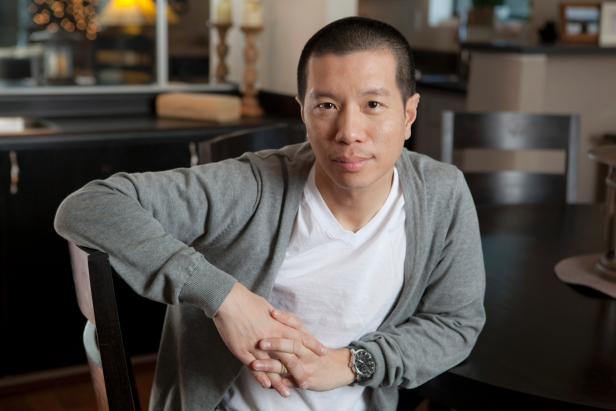 Inside Reggie Lee's Hollywood Home
Reggie Lee's bad-guy roles in film and television have included playing a cold-blooded killer in The Fast and the Furious, a devious Secret Service agent in Prison Break and a wily sea warrior on Pirates of the Caribbean: At World's End. The actor is now playing Sgt. Wu, a smart cop with a wry sense of humor on NBC's hit series Grimm. While the show films in Portland, Reggie spends most of his time in Los Angeles. The actor recently gave us a tour of his home in Hollywood.
Reggie Lee's bad-guy roles in film and television have included playing a cold-blooded killer on The Fast and the Furious, a devious Secret Service agent in Prison Break and a wily sea warrior in Pirates of the Caribbean: At World's End. The actor, who began his career in the national touring company of Miss Saigon, is now playing Sgt. Wu, a smart cop with a wry sense of humor on NBC's hit series Grimm (airing Fridays at 9 p.m. Eastern). While the show films in Portland, Reggie is happy to commute back and forth from his home in Los Angeles, and is pleased to be playing a good guy this time around.
It must be fun working on a cop show that gives fairy-tale characters a dark twist. Tell us about your role.
Sgt. Wu is a very sardonic, sarcastic character, in a fun way. He's the liaison between the two detectives (played by David Giuntoli and Russell Hornsby) and the captain (Sasha Roiz), and is on the scene of every crime to assess them. I originally auditioned for the role of David's partner Hank, and Russell got the call. I was about to test for two other shows when my agent called and said, "Grimm would like to create a role for you." The character's name Wu came about when the producers went to Grace Wu (executive vice president of casting, NBC Universal) and said they'd like to make me a regular. She said, "Only if you give him my name." I'm thrilled to be playing this role. It's great to explore a human being who's not a bad guy. Sgt. Wu is a regular guy with insecurities like everyone else.
Why do we love scary stories so much?
I think it's a very basic human desire to be scared. The feeling of being thrilled can manifest in many different ways, and being scared is one of them. It's an escapist thing, a thrill ride. I'm waiting for them to make Pinocchio into a scary tale. Pinocchio was scary for me, as a child, because of the idea that your nose could growing longer when you tell a lie, and never shrink back.
Where did you grow up, and what made the neighborhood special?
I grew up in Strongsville, Ohio, 20 miles south of Cleveland. We had a white Colonial house with a red front door, and my grandfather built the white picket fence. All the homes in the development were Colonial style with aluminum siding and huge backyards. There were tennis courts nearby, a swimming pool and a lake with ducks. It was simplicity, Americana and the Midwest. My grandparents lived with us for six months of the year, then lived with an aunt and uncle in California for the other six months. I shared a room with one brother. When my youngest brother was born, I got my own room, and then the younger two shared a room. I left home for Los Angeles and got Miss Saigon, then moved to New York to join the original Broadway company of the revival of Carousel. I lived in a little 900-square-foot, one-bedroom apartment, but never felt a sense of home there.
Where do you live when you're on location in Portland, and what style is the home?
I love Craftsman homes because of their warmth. But since the show is an experience for the moment, I chose a modern apartment in a high-rise building that's done in a loft style. It has exposed plumbing, light hardwood floors, granite countertops and stainless steel appliances. I have modern glass furnishings with windows that look onto the Broadway Bridge, Columbia River and Mt. Hood. Our cast is very close, and several of the cast members live in the building.
What about your home in Los Angeles? What do you like most about your neighborhood there?
I live in a condominium in the Hollywood Hills. I love that I'm close to work at the studios and for auditions, but once I'm in the hills, it feels like I'm in northern California, with large pine trees and cedar shingles on the townhouses. It was the first place I ever bought, and I got it for $170,000 in 1993. It happened to be the last place I looked at and was a foreclosure. Growing up Asian, I was instilled with the idea of having financial stability, so buying a home was always a goal. While I've looked at other homes since then, I've never found one that has given me the sense of warmth that this one does. One of the reasons I haven't bought a house is I like the sense of community here. I'm on the condo's board of directors, and I like figuring out where our money is going. Those who serve on condo boards will never all get along, and I've brought a sense of balance to the group. It's been fun to help keep the peace and make informed decisions.
How would you describe your condo?
My favorite style is Craftsman, with a touch of modern. I've remodeled the place a lot, redesigning the bedrooms, bathrooms and kitchen. The living room has dark mahogany flooring with a pinewood fireplace hearth. I had someone design the hearth, and did the slate work around the fireplace myself. That was tough. You have to cut the slate with a water saw, and I broke so many of the tiles. I like the idea of remodeling. But I don't like doing it.
What is your favorite room in the condo, and why?
My favorite room is the living room because it has the fireplace, which leads me to warmth and the feeling of being grounded. I also love my office because it has a huge movie screen where I do my homework. My acting coach taught me that the most important thing in acting is imagination, and to imagine with a clear head, it's best to look at a blank wall. So I pull down the movie screen, sit on the couch and imagine the settings for my characters. For every role, I can sit there for hours at a time, imagining my character's world until emotions start to surface.
You sound like a very contemplative soul.
I meditate every morning, and sometimes in the afternoon. I have a nook off the living room with a chaise lounge where I meditate and journal. The nook has a Craftsman bookshelf and a watercolor painting of a church outside Mexico City, where I filmed Persons Unknown for NBC. It reminds me of the amazing experience I had shooting with the people there. There's also a picture window that looks onto a magnolia tree that gives me a great sense of peace. I used to think of design in terms of creating a picture, but that's just visual. Now I decorate only with things that are meaningful to me, which gives a sense of completion to my home.