At Home With New York Giant Terrell Thomas
Check out the stylish contemporary condo (with million-dollar views of Manhattan) that the NFL cornerback shares with his girlfriend, Ashly Sells.
Terrell Thomas, cornerback for the New York Giants, has had a lot of opportunity to think about what makes a home. Raised in Southern California, at times by his grandparents, he shuffled between places during his childhood. He kept up that tradition of moving when he signed to the Giants in 2008, leaving southern California for a series of townhouses in New Jersey towns near the stadium.
Then, in June of last year, Thomas's girlfriend, Ashly Sells, joined him (and his Jack Russell-Chihuahua mix, Deucy) and they found a new home: a Hudson River-front condo in West New York, N.J., full of warmth, charm, and million-dollar views.
How did you guys find this apartment?
TT: We decided last year that Ashly was going to come out with me for the season, so we started looking around. I had had a 5,000-square-foot townhouse before, but it wasn't well managed. Ashly was big on location, and here there's a grocery store, a bank, a nail salon and a Ben and Jerry's. I have a three-and-a-half-year-old daughter, Tatum, and this place is good for kids when she visits. There's a playground right outside. It had all these amenities.
AS: The fact that we were on the Hudson overlooking the city and Manhattan is only seven or eight minutes away — it's perfect. We have a view and we can come back home where it's not as congested and we can relax.
TT: It was hard to envision going from 5,000 square feet to 1,700 and making it work. But I saw the high ceilings and the view, and you can't beat them. When my mom brings Tatum to town, it can get tight in here, but we make it work.
How did you decide what to keep and what to put into storage?
AS: We had a strategic plan. We figured out what we needed and the size of each room and measured everything — he's really good at the more technical/mechanical side of things like measuring, building and installing. We had only one day to decide what to keep and what to store, but we had the same vision of what would work in here and what wouldn't.
You know that no matter what happens with Terrell's career, you're not planning to spend your entire life together in this exact space. Does that affect the way you approach decorating?
TT: Even though I'm from Cali, I've always felt that my places in New Jersey were really my homes because when I first moved out here I bought everything — pots, pans, movies, DVDs. In Cali I was just staying in an apartment condo — just some place to lay my head. I eventually bought a townhome out there, but it's taken years to build up. But Ashly really made this place feel like home right away.
AS: Everything we bought new for this home we can take with us to a larger place. The furniture is an investment that we can take with us.
Is there a different approach to decorating a house in the Northeast versus Southern California?
AS: On the West Coast, I would decorate a house with black and white and one pop color, whereas here, I incorporated more neutral colors since it's a smaller area.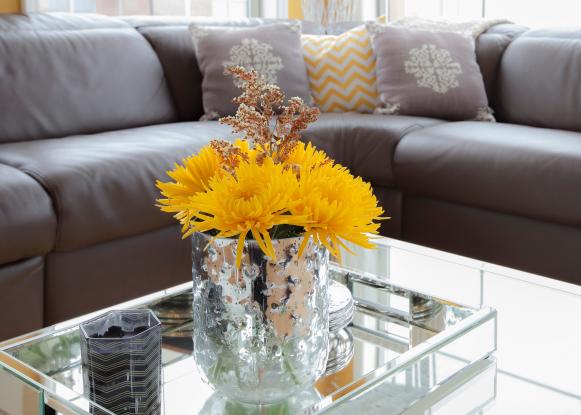 Living Room Coffee Table: Terrell Thomas' New Jersey Condo
Ashly describes her style as contemporary and light. "I like a lot of light wood, white colors, straight edges, not too cluttered or crowded – that's one thing [Terrell and I] really agreed on," she says. The couple also likes to add pops of color with accessories.
How would you describe your style?
AS: Contemporary and light. I like a lot of light wood, white colors, straight edges, not too cluttered or crowded — that's one thing we really agreed on. And then always have a pop of color. I really like accent pieces. I did the decorating, but we have the same ideas and agree on everything in terms of decor and furniture. He might see something and, even if I don't like it, I'll find something similar.
TT: We're both into fashion, so we want to add a little flair here and there with the colors. Once we added the yellow wall, it really made a difference. It's hard to put up pictures with those narrow walls.
What are some of your favorite places to shop?
AS: I love Home Goods, West Elm, Crate and Barrel, Restoration Hardware and Bed Bath & Beyond. Those stores work really well for this size space that we have. Once we have a house it'll be much more extensive decorating.
What's your decorating process?
AS: Photos are a big part of it. We have family photos in every room. The main furniture pieces, then paint, and accessories last.
Does Terrell participate?
AS: He's willing to participate. I take more charge of it because it's something that I really like to do, and I like to take care of that stuff so he can focus more on work. Terrell put up the clock in the living room. He's good at fixing portions of the house and putting stuff up.
TT: A lot of the guys on the team might take credit for how their places look, but it's always the wives or girlfriends making it happen.
Where do you live in the off-season?
AS: We have a centrally located condo in L.A. New construction, and it has three bedrooms. That's where Tatum is in school, so we always need to have a home there.
How do you handle decorating for two homes? Are they similar in feel?
AS: It's good to have two different-looking places so you feel like you can always have that change, so that you can take advantage of having two houses. The place in California still needs some decorating — we'll work on that during the off-season.
You have a loft area above the master bedroom that seems to be like a man cave, only not in the basement. Describe how you use this "man-loft" space.
TT: We had originally conceived it as a space for family — my mom often brings my daughter to visit, and we wanted to have a space that was comfortable for them. It has her toys up here and a desk where she can do her homework. When she's not here, this is almost my training room. I've got my hyperbaric chamber, my Game Ready [an icing and compression device], and my NormaTec [a massage machine]. I might be playing my video game or watching film.
What does home mean to you?
TT: I grew up in multiple homes from staying with my grandpa and grandma, and I lived in townhomes, houses, apartments. It humbles you and allows you to adapt to any situation or place. I see home as a place where friends and family can get together and bond and laugh and eat and be comfortable.
Having lived in some many different kinds of places, what's your ideal image of home?
TT: I'm from Cali so my idea is a big backyard, a pool and a nice little area to barbecue, because that's what I like to do. It's a little bit different on the East Coast.
Do you want a home like that?
TT: My next goal in life is to buy a house, somewhere for my daughter to grow up and be in a stable location where she doesn't have to move as much as I did. The good thing is that I've lived in so many different places that I have a picture of exactly what I want.