At Home With Fashion Designer Galina Sobolev
The fashion guru – whose dresses have been worn by Eva Longoria, Katie Couric and other stars – gives us a tour of her luxe Los Angeles residence.
Russian designer Galina Sobolev has appeared as a fashion expert on Bravo's Launch My Line and Hallmark's Home & Family series. Dresses from her Hollywood label, Single, are popular with celebrities like Eva Mendes, Katy Perry, Eva Longoria, Katie Couric and Britney Spears for their classic silhouettes paired with sexy, feminine details. Naturally, the designer's Los Angeles home is equally stylish, filled with rich textures and luxurious fabrics. We chatted with Galina to learn more about her stunning residence and how it makes her feel at home.
You're a fashion designer, but do you have any interior design tips?
The best interior design tip is to have a comfortable and inviting color scheme. I think keeping a neutral color palette is really important, because we are all tired when we come home; we want something soothing and beautiful. I also love a pop of color in a room, whether it is an accent wall, or it is done through accessories.
What's the best way to organize one's closet for clothes and shoes?
I think the best way to organize is by color as well! All black pants in one section, all blue jeans in another section, and shoes in the same way.
Your home is beautiful. What drew you to it?
Our home was purchased about eight years ago; both my husband and I knew the previous owners, and we always loved this property. We finally mustered up enough savings to approach them about purchasing it. But it was always the property and not the original house that had inspired us. We ended up tearing it down; we had no choice but to remodel, after a small earthquake caused a pipe to burst, which resulted in a flood while we were out of town.
The home itself is a labor of love, and we rebuilt it from the ground up. The property is an acre, on Mount Olympus in Los Angeles, which is a magnificent location! It sits on a beautiful hill, and has an amazing view of L.A. We have a stunning view of L.A. city lights, and on a clear day all the way downtown. I can see the city from my bedroom window as I fall asleep at night – it is quite inspirational and breathtaking in the morning.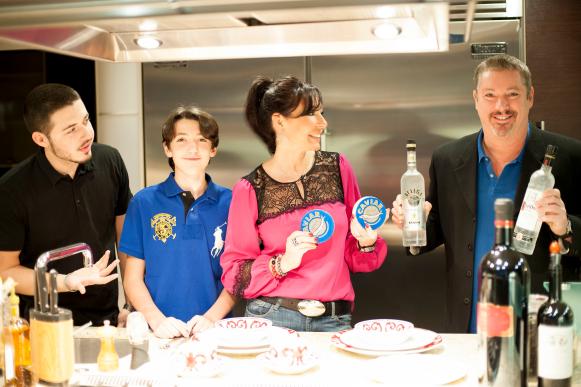 Family-Friendly Kitchen: Galina Sobolev's Los Angeles Home
Galina says her kitchen is her family's hangout space. "We love it and spend quite a bit of time in it," she says. "It is a family gathering place, and is the spot where my husband and his friends who love to cook do their Sunday cook-outs."
What's your favorite room in the home?
The kitchen is our family hangout space. We love it and spend quite a bit of time in it. It is a family gathering place, and is the spot where my husband and his friends who love to cook do their Sunday cook-outs. The kitchen was designed by my husband – I only make salads! However, the design of the cabinets and the details of the appliances I had 100 percent input in. The backsplash is made of metal chips in stainless steel, and set up in a modern brick pattern. We have even held cooking classes from a few master chefs hosted in our kitchen. The most recent chef, Greg DeMichiel, was from the Hudson restaurant.
I also like my bedroom. I love the way we designed it to function as a hotel suite. We have a balcony to go outside and enjoy the fresh air, and we have a huge spa and a one-of-a-kind bath tub. It is by Pinaforini and was made in the factory that makes Ferraris – there are only four of them in all of the U.S.!
How does the room make you feel at home?
I walk into my bedroom and I automatically feel relaxed, like I am on vacation. It is a joy to come home to my house.
What are some of your favorite colors, shapes, textures, fabrics?
I love luxury for the home. I used a lot of natural silks, and my drapes are mostly silk velvet, which I find is soft and very sexy. I love that throughout my house we have used amazing textures, such as a red crocodile wall in the dining room, and a raffia and silk mix wallpaper in the entrance room and some of the bathrooms. I love sumptuous luxurious textures, and we have cashmere blankets and Hermes cashmere pillows everywhere.
How would you describe your interior design style?
Eclectic luxe with a designer touch! I was inspired by the comfort of modern hotels such as the W, and Four Seasons. I love the idea of dark African wood floors mixed with a color and a touch of whimsy created by such great talents as Philippe Starck.
What are some of your must-have essentials in your home?
Lots of candles, photos of the family in great frames and lots of cashmere blankets. I love having great books on the table.
Where do you like to shop for home-related products?
I love to shop at Mogul on Melrose – it is the sexiest home furnishings store ever! I love Ralph Lauren Home for pillows, blankets, bedding and picture frames, as well as holiday candles. And I love Interior Illusions store. My ultimate favorite is Armani Casa and Fendi Casa – I have a lot of pieces from them.