At Home With Devo Member Gerald Casale
The musician and modern architecture buff shares what it's like to live in the Kun House, designed by esteemed architect Richard Neutra.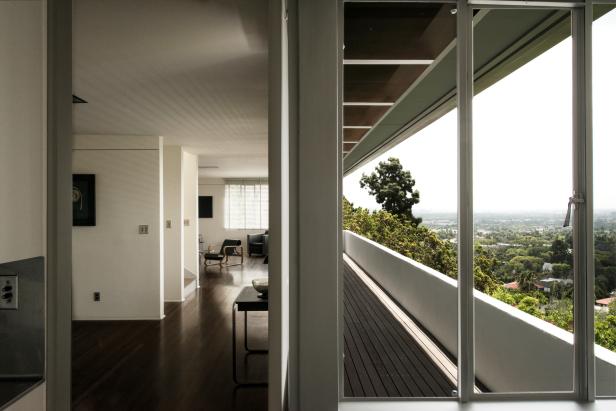 Indoor/Outdoor Living: Kun House in Los Angeles
Homeowner Gerald Casale noted that this photo illustrates what Richard Neutra does so well: the "seamless" flow from interior to exterior space. "This is what I love about his architecture," he said. "The beauty of the house is illustrated by the precision of his design."
If you remember the '80s, you probably remember new wave band Devo and their best-known hit, "Whip It." What you may not know is that Gerald Casale, one of the band's founding members, is an architecture enthusiast who now lives in the Kun House in Los Angeles, built by prominent modern architect Richard Neutra in 1936. Casale lovingly restored the home in partnership with the Museum of Design and Mechanical Arts in West Hollywood; all drawings, paintings and sculpture in the Kun House are part of the partnership's collection. In addition, they are also building a new winery, The 50 By 50, named after the never-built architectural plan that Mies Van Der Rohe designed more than 60 years ago. MDMA will build The 50 By 50 estate on the 23-acre property in Napa's Wooden Valley, where Casale is planting eight acres of wine grapes.
What drew you to the Kun House?
I had been a fan of Neutra since my days at Kent State University in graduate school in the early 1970s. In 1985, the house was up for sale for $250K. I was living in Santa Monica, Calif., and was going to buy it when Devo lost our recording contract with Warner Brothers Records. Twenty some odd years later, I got a second chance. It seemed like fate. Neutra's thoughtful, machine-like precision for each detail in the plan, the flow of space, the human-centric proportions, the meticulously detailed built-ins and storage space, and the modest, austere rational feelings it evokes are qualities missing in almost all contemporary home designs.
Why did you decide to renovate it?
It became apparent it was the right thing to do. It was one of Neutra's most important early U.S. commissions (1936) where he was still mining the International Style while bending it toward a new, Wild West environment. I was tutored by James Rega and his associates at MDMA in Los Angeles, who were the most knowledgeable and meticulous restoration experts I'd had the fortune to become acquainted with. They convinced me that the restoration was far more involved than cosmetic. The changes to and abominations of Neutra's original plans extended all the way to the exterior skin of the house itself. That led to a basic re-think of my whole intention with the house. The proper restoration would prove so costly, I partnered with them to get it done. More than a principal residence, it would now become an architectural gem, a museum piece of sorts, open to private tours and architecture students and furnished with rare, valuable vintage pieces to complete the time warp experience. It's a transformative experience that happens when you spend time in the house.
What are the challenges in dealing with vintage pieces?
For the fixtures and material finishes that matched what Neutra originally specified, just finding them proved to be nearly impossible! A case in point was the kitchen counter, originally gray Vitrolite. Finding that and finding other Vitrolite for panels in the bathrooms was finally solved after more than a year of failed custom fabrication attempts. James tracked down the material taken from an art deco theater in Pennsylvania. For the furniture that populates the house, the only problem is that it is not replaceable should someone damage it. That makes living in the house a bit too precious at times!
Master Bedroom: Kun House in Los Angeles
"[Richard] Neutra never wanted any walls to have holes in them, so pictures were hung via wires so that the walls were preserved," said homeowner Gerald Casale. "He created a precise routed groove, about 12 inches down from the ceiling, from which you hang a wire for your pictures. He would paint the wall a muted shade of gray up to that groove and then white above it, creating a canopy effect."
What is your favorite room in the home?
The master bedroom is my favorite room. Once I'm in there I don't want to leave! I feel at peace, which is a very rare experience in my life.
How does the room make you feel at home?
It makes me feel that I do not want what I have not got, as Sinead O'Connor once opined.
What are some of your must-have home essentials?
Spare batteries, light bulbs, unscented candles, my Rosito Bisani espresso machine, my 50 by 50 Rose and Pinot Noir wines and eucalyptus shower gel.
Tell me about your most cherished items.
First and foremost would be Kandinsky's "Meeting Point" from 1929. He painted it at the Bauhaus. Galka Scheyer owned it. She was a representative of the "Blue Four" and lived for a time in Schindler's King's Road House in Los Angeles. When she moved out, she hired Neutra to design her house. She exhibited her Kandinsky piece in 1930 and 1931 in San Francisco and Los Angeles, along with other works by the infamous "Blue Four." None of them sold to the philistine U.S. art buyers at the time. Rega acquired it recently and placed it in the Kun House when the restoration was complete. He felt it belonged there as a modernist statement with ties to Neutra, Schindler and Los Angeles. I love the piece and couldn't agree more.
In the master bedroom is the Scroll Chair by Alvar Aalto circa 1940. It epitomizes the "organic" shift in Modernism that was emerging at the time Neutra was building the Kun House. Neutra respected Aalto's genius so the chair has a welcome presence. Sitting in the chair is another reason it's hard to leave the master bedroom no matter what time of day it is.
Where do you like to shop for home-related items?
There really isn't one place in Los Angeles. One can find something appropriate here and there, but my tastes run counter to the expensive, bourgeois, "wow" factor mentality the drives most inventory in L.A. retail. Shopping online produces the best results for me.
What do you like most about the home?
It is the entirety and perfection of the design inside and out. The human-scaled plan before there was an entire culture on steroids so to speak. The views, many of which miraculously still hold up despite the monstrosities of hideous homes that flank the Kun House left and right, are filtered in the foreground by old growth bamboo, so that the hodge-podge of development in the distance beyond is framed by nature. The light that streams through dawn to dusk is warm and even given the southern exposure of the window rows on floors one and two. At night, the city lights twinkle down to the activity at Los Angeles airport and disappear to the black void of the Pacific Ocean beyond. The Schindler house up on the bluff to the southwest – which Schindler arguably situated to block the view to the ocean from the Kun house during his ongoing feud with Neutra – is now a welcome sight.
What are your plans for the wine estate you are building in Napa?
That 24-acre piece of property up Monticello Road at the edge of Wooden Valley in Napa will be home base for the 50 by 50 brand. Eight acres will be planted with Cabernet Sauvignon, Cabernet Franc, and Merlot in rich, volcanic soil well-suited for such varietals. We will make an estate grown and bottled Bordeaux-style blend with a good bit of Cabernet Franc, not unlike the blend in found Calon Segur from Bordeaux itself. We will continue to source our Pinot Noir fruit from Rodgers Creek in the Sonoma Coast AVA until which time we purchase our own Pinot Noir vineyards in the region. The realization of Ludwig Mies Van Der Rohe's unbuilt vision from more than 60 years ago, named by him as The 50 by 50, will be the centerpiece on the estate, home to tastings, private events and open to the public by appointment. Rega and his team are well into the construction phase.
Sixty years ago, why weren't Mies Van Der Rohe's architectural renderings turned into a home at that time?
The simple answer is that Mies could not find a commission to allow him to build it. I'm not sure it was a priority for him once he was busy designing skyscrapers in Chicago. Although manufacturing 10 foot by 25 foot tempered glass panels for the exterior walls was not a problem for U.S. glass manufacturers in the day it became problematic in the ensuing decades. Now the glass panels are coming from China because no one in the U.S. will (or can) do it. Is that an example of de-evolution perhaps?