The actress gives us a look inside her charming California cottage.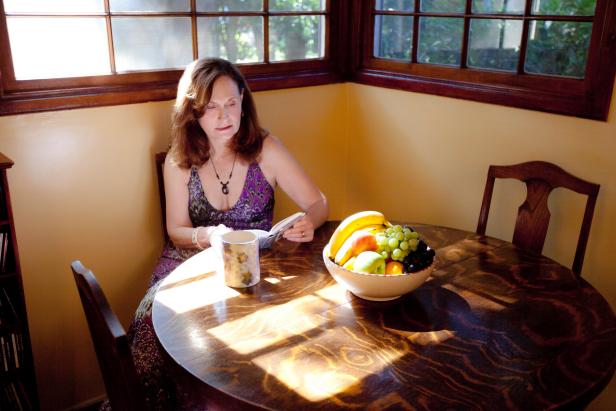 Beth's Favorite Space
Beth says she likes to start the day by drinking coffee and reading spiritual books in the kitchen — her favorite room in the home. "I have an old table there from Montgomery Ward — tiger oak from the '30s — that we got when we first married 26 years ago. In the morning, the light comes in and hits that table," she says.
One of Hollywood's most recognizable faces belongs to Beth Grant, a character actor who's appeared in more than 70 feature films, including three that won Oscars for Best Picture of the Year: Rain Man (1988), No Country for Old Men (2007) and The Artist (2011). Grant has starred in numerous television shows, including Delta, Everwood and Jericho. She recently directed her first narrative movie, The Perfect Fit, which won the Audience Award for Best Short Film at the Soho International Film Festival in New York. We sat down with her to talk about her many projects and life off the set.
It must have been exciting to direct your first film. Tell us about it.
It's the hardest thing I've ever done, but I loved it. Three wonderful young women actors (Lauren A. Miller, Ahna O'Reilly and Jennifer Zaborowski) invited me to join them in this project. They had this idea about a dressing room in a store and the women who come in, all with different stories and diverse backgrounds. The cast includes the three women, Octavia Spencer and my daughter, Mary Chieffo, who's studying now at Juilliard. The movie is 13 minutes long, and it has no words. I took the dialogue out because I had the honor of having a cameo in The Artist and got so excited about doing something visual without words. It'll be released by Indican with five other short women's films under the title Girls, Girls, Girls, and will be available through Redbox, Netflix and On Demand-type venues this fall.
What was it like working on The Artist?
It was the most exciting experience. At first, I hesitated to audition for it because I didn't think I'd be good in a silent film, but my husband (Michael Chieffo), who's also an actor, had me look at a collection of Charlie Chaplin films, and I got it. The silent film actors were really good actors. You just didn't hear them speak. So I got the part (Peppy's Maid). I guess my face is more expressive than I thought. Initially, I thought it would be an art film that would play in Europe and be here in the United States for a week. But when I heard that Harvey Weinstein bought it, I said, wait a minute. Is it possible this will be distributed to more venues? To see the movie catch fire, win Best Picture and really touch people was wonderful. I also had a voice (Bonnie) in Rango, which won last year's Best Animated Feature Film, so 2011 was a pretty special year for me.
So what made you decide to become an actress?
My mother had always wanted to be an actress and never had the courage to go to New York. I grew up in North Carolina, and I'm the first person in my family, on both sides, to leave the South. Mama encouraged me when I was little, and I got hooked on performing. I graduated from East Carolina University with a B.F.A. in acting and directing and went to New York after I graduated. I see myself as an artist, and my job is to tell a story through the stories of other people. I don't want to be a personality. If you think of walking the red carpet as something more than a recognition of your work, you'll get in trouble. I think of my work as a spiritual thing, searching and surrendering myself to the universe to be of service to help people. I don't always play Pollyana parts. I played a serial killer on Criminal Minds in a cautionary tale to parents. If I play a bad guy who helps someone wake up to the dangers to children, I'm happy to do it.
What was your childhood home like?
My father was a poultry specialist and salesman, and we moved around a lot. The house I liked best was a Victorian home in Wilmington, N.C., that was in an old part of town. It was two stories, had high ceilings, and my room was huge. I had windows that came down to the floor, which was very romantic. We only lived there three years, but I loved that house the best.
After that place, we built a house in the suburbs of Wilmington. It was a ranch-style house with a big yard. We had early American furniture in the den and a bar instead of a table in the kitchen, which was considered very cool. I was the only girl in the '60s to have a sunken living room in our neighborhood. We weren't wealthy, but my mom had good taste. She was a volunteer for the ERA and fought for civil rights. She also worked for the North Carolina Employment Security Commission and was one of two women managers there at the time.
What was the first home you bought?
The first home I ever bought was a three-bedroom, two-bath condo in the San Fernando Valley of Los Angeles. My husband and I remodeled it. Then I got pregnant and was cast in a series (Delta), and we decided we wanted a place with a yard. I was doing a commercial when Michael called and said, "We just sold our condo." So we quickly had to find a place to move to. We ended up buying a house in Valley Glen, where Mary was born. It had a white picket fence and a beautiful yard, but a child takes up more space than you realize you'll need, and we quickly outgrew it.
So you moved to the home you're living in today.
Yes. It's a 1939 country French home, also in the Valley. We have a very tall chimney in the front of the house, which is a bold statement. It feels like a fairy tale cottage to me. We have a half acre with three orange trees, a grapefruit tree, an avocado tree and a lemon tree. It was a total emotional buy. The place needed a lot of work when we got it. There were 11 dead Christmas trees that the former owner had left behind the garage. But we worked on it, and Michael just put in a drought-resistant front yard. In the winter, it's very dry looking, but when it starts raining, the poppies come out and it's beautiful. It's a three-bedroom, two-bath house with a formal dining room and entryway. It's old fashioned, like us. We feel like slightly upscale hippies.
What's your favorite room in the house?
My favorite room is the kitchen. I have an old table there from Montgomery Ward — tiger oak from the '30s — that we got when we first married 26 years ago. In the morning, the light comes in and hits that table. I begin my day with coffee and reading my spiritual books there. The kitchen still has its original cabinets, and we painted them off-white with a gray tint to contrast with the warm yellow walls. The flooring is marmoleum, made from linseed oil and cork to look like marble, in teal green.
What do you love about your neighborhood?
It feels like the East Coast because we have tall trees and large yards. The neighbors are very friendly and kind. People walk constantly. At one time, we had five cats and a dog, and people would stop to pet them.
That sounds like quite a menagerie.
One day, Michael opened the front door and there was a mama cat and four babies. She walked right in with her kittens. How do you turn down a gift like that? The dog was a rescue, also, and when she arrived, all the cats assembled on the patio, and the male cat slapped the puppy on the face. That male cat stayed the boss until he passed away. One by one, we've lost them, except for one kitty, who's now 17 1/2.
How would you describe the atmosphere in your home?
Love, love, love, warmth, humor, goofiness and freedom. We have empty nest syndrome with Mary away at school and are busy with a lot of projects. But we always want our guests to feel comfortable here. It's real, not fancy. Our home is just about love.