At Home With Atlanta Falcon William Moore
Even though Moore is notoriously one of the hardest hitters in the NFL, deep down he's a fairly chill, stay-at-home kind of guy. And pouring champagne on the floor? You'll never catch Moore doing that – he'd much rather enjoy it, one sip at a time.
Atlanta Falcon star safety William Moore grew up in the tiny Missouri town of Hayti (pronounced Hey-tie), which is located at the very bottom of the Show Me state and about 90 miles north of Memphis. There wasn't a lot to do so Moore excelled at sports, achieving much success on the football field and the basketball court.

Moore lived in a one-bedroom apartment with his mother and three siblings until 2004 when he went away to the University of Missouri on a football scholarship. The 28-year-old signed to play for the Atlanta Falcons in 2009 and recently signed a five-year contract for $32 million to stay with the Falcons. So, it was time to house hunt.
What was it like living in such tight quarters with your family?

I honestly don't remember it being that bad, but I was at school a lot with football and basketball practice. I do think that is one of the reasons I wanted to get such a big house, so that all my family could be here, spend the holidays and feel comfortable. We just had 20 people stay here for Thanksgiving. It was so much fun and no one felt on top of each other.

What do you remember most about that apartment in Hayti?

I remember that even though we didn't have a lot, it was always nice. My mother did a lot with the little she had. It was always neat; everything had its place – and you'd better keep it there or you were in trouble. She liked to decorate, so every once in a while she'd find a good deal on one special thing and that would make it into her scheme. She wanted it to be nice for us.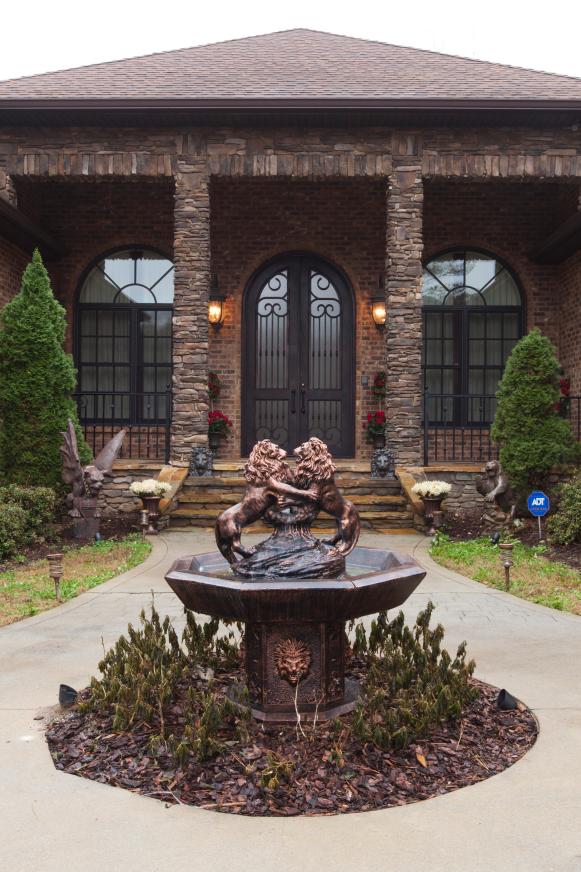 Entrance: William Moore's Home Near Atlanta
Past a walkway with a fountain, the grand entryway opens directly into the living room. "I wanted a house with a big entrance, and I absolutely love the double front doors and how you walk into a grand room with a high ceiling," William says. "That makes me very happy."
You just signed a multi-million dollar contract with the Atlanta Falcons and you could buy any house you wanted, yet you shopped around and bought a foreclosure. Is that part of your overall value system?

Yes, very much so. Why should I spend $2 million on a house when I can just be patient and save over double that and still get what I want? Some people say that time is money, but I think throwing it away for the sake of saving a month or two is ridiculous. Sure, I could've bought Julio Jones' house before I found this one, but then I wouldn't have been able to buy the car I wanted. Well, I could've but I would've felt guilty about it.

It is fair to say that you pick your battles when it comes to parting with money?

That is most definitely fair. And I've noticed that when people recognize me, whether it is in a shop or when I call a repairman to come out to the house, the prices seem to go up. I'm lucky that I found one honest guy to take care of things around here for me.

My girlfriend Brittni and I went shopping for furniture and some of the prices were just outrageous. So, we shopped around and found a lot of the same items just down the road for much cheaper.
What are things you will not compromise on?

Mattresses, bedding … Those are things that are going to affect how I rest and how my body feels the next day. But, I haven't gotten into the whole luxury thread count thing yet. Some of the prices are crazy. I did have someone custom make the curtains. The windows are oddly shaped so it's really hard to just find ones that fit the window.

I won't compromise when it comes to what I eat and what I put in my body, especially during the season. The offseason, well, that's a different story.
What was on your list of must-haves when you went house hunting?

Number one on the list was an indoor pool. Second was a house with two kitchens – one for family meals and one for parties. This one has both those things and so much more. I wanted a house with a big entrance and I absolutely love the double front doors and how you walk into a grand room with a high ceiling. That makes me very happy.

I like hosting parties, so a space where I could do that was important as well.

Do you remember the first moment you felt at home in this house?

Yes, after everything was moved in and the bed was all set up I got up in the morning and ate a bowl of Cocoa Puffs on the porch off the master bedroom. I sat there all alone and looked at the treetops. It was perfectly quiet and I felt so relaxed. I felt like I was home.