Tour the Master Suite From HGTV Smart Home 2017
A star of HGTV Smart Home 2017, the grand master suite is a show-stopper with a chic gray bedroom, walk-in closet and spa-like bathroom.
Immerse yourself in these beautiful spaces. Pan around and zoom to discover every design detail.
Tour the Master Bedroom at HGTV Smart Home 2017
A mix of grays and blues create a restful vibe in this master bedroom.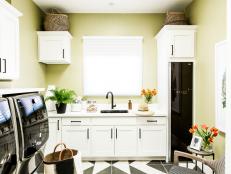 A focus on style in a highly functional space proves a win for interior designer Tiffany Brooks.