Why-didn't-I-think-of-that design solutions for any indoor or outdoor space.
And the award goes to... Angela Rasmussen, winner of the most unusual space category.
Vertical Garden Creates Showstopping Shower
In this open-air space, the designer merges function with high-style green living, creating a color-filled outdoor shower with a tropical feel.
Vertical Garden Blends Function, Style
The moisture produced by the rain shower head provides ample water for Tillandsia plants lining the wall to thrive.
Vertical Garden Brings Outdoor Shower to Life
This outdoor shower gives new meaning to the words "green design," with low-maintenance tropical foliage built right in. The sleek vertical shower column is surrounded by Tillandsia, or "air plants." These twisting tropical blooms grow without soil and need little moisture to thrive, making them an ideal choice to bring life and color to this outdoor space.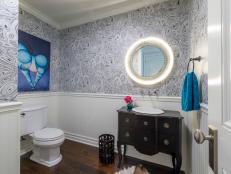 A lack of square footage cramping your style? These gorgeous rooms prove that less really can be more.