What Your 'Love It or List It' Affiliation Says About You
Team Hilary or Team David? Let's consider what that might mean.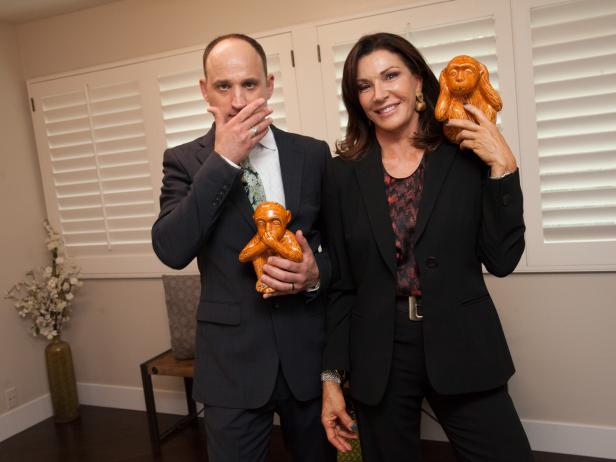 HBRVB206_talent-panelists-see-no-evil_h
As seen on HGTV's Brother vs. Brother, David Visentin (left), Canadian realtor and co-host with international home designer Hilary Farr (right), of HGTV's Love It or List It, poses in the master bedroom of the Lousteau home in West Hills, California. Both teams had four days and thirty thousand dollars to renovate the master suites of identical tract homes and the panel was on hand to evaluate the value added to each home. Team Drew focused most of their efforts in the bathroom, creating a "Zen spa" vibe with a double shower, a walk-in closet, bathtub and double vanity. (Portrait)
From:
Brother Vs. Brother
Stephanie Diani / Getty Images, 2014, HGTV/Scripps Networks, LLC. All Rights Reserved
Love It or List It's Hilary Farr and David Visentin have chemistry so epic that fans sometimes assume they're married (which would come as something of a shock to David's wife, Tia, we imagine). Quite literally, they start their days the same way: with The Smoothie — kale, cilantro, lemon juice, banana, almond butter, cacao, cinnamon, ginger, turmeric and black pepper. (Well, David sometimes throws in avocado and apple. And sometimes he throws the whole thing on the floor.) But breakfast aside, as Hilary puts it, they're "exact opposites." So what does rooting for one of them say about you, o viewers? Well ...
Team Hilary: You live for drama.
Before she began staging homes as a pro, Hilary worked actual stages (she even had a non-speaking part in The Rocky Horror Picture Show). More recently, she trod the boards as the evil fairy queen in Sleeping Beauty — and gets to play the villainess on Love It or List It when she has to inform homeowners that an aspect of their renovation has gone terribly, tragically wrong. (To her credit, she saves her wicked laughs for victories over David.)
Team Hilary: You can also be a cool customer.
The end results of Hilary's high-wire acts as a renovator are, of course, comfortable spaces. (Why go to so much trouble to stay somewhere if it doesn't ultimately feel good?) Unsurprisingly, her favorite bedroom paint color is an almost cashmere grey. "This serene color is earthy yet ethereal — you'll start to feel the calm envelop you the minute it touches your walls," she's said.
Team David: You're always shopping.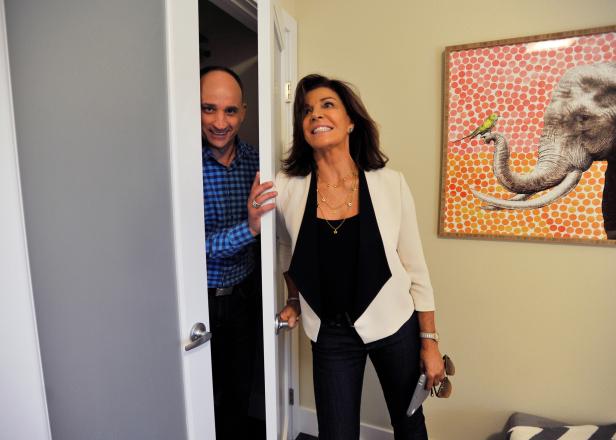 As seen on Brother vs. Brother, guest judges and hosts of "Love It or List It" realtor David Visentin (L) and designer Hilary Farr horse around in the one of the bedrooms at the Team Drew House. The two are judging bedrooms and bathrooms at the Scott brothers' redesigned homes, with the looser completing a humiliating dare given by the winning brother.
From:
Brother Vs. Brother
David Becker/Getty Images
No, not for clothes — that's Hilary's thing. No matter how sweet a home may be, though, David's eyes are perpetually peeled for a deal that might be ju-ust a bit better.
Team David: You're a numbers person.
David's a triathlete, and he knows the value (and the satisfaction) of getting your stats right where you want them. In the context of loving and listing properties, we're not just talking about budgeting — Hilary's a master of that, as well — but about neighborhood comps, distances to amenities, lot sizes ... you get the idea.
Team Hilary: Everyone knows your opinion.
Hilary's fans know precisely how she feels about current events, animals, art ... and her homeowners learn quickly that she has very specific ideas about how to transform their rooms. She lives out loud.
Team David: You play things close to the vest.
Tasked with convincing families to follow him out of problematic places, David's always got an agenda — but he's a master of the Canadian attack. He comes across as so reasonable that you don't know he's changed your mind until you're nodding along with him. Sneaky, Canada. Very sneaky.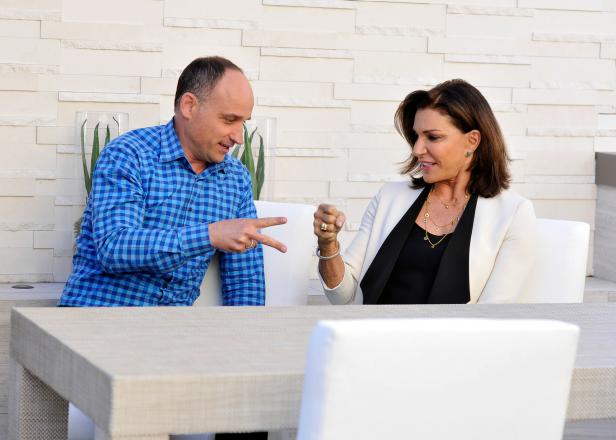 As seen on Brother vs. Brother, guest judges and hosts of "Love It or List It" realtor David Visentin (L) and designer Hilary Farr use "Rock, Paper & Scissors" to break their deadlock on which brother won the bedroom and bathroom challenge. The winning brother got to watch the other perform a humiliating dare.
From:
Brother Vs. Brother
David Becker/Getty Images
Who's earned your loyalty — and who looks better in Hilary's crown? Catch new episodes of Love It or List It, Mondays at 9|8c.