NYC Apartments: The Original Tiny Houses?
New York City is all about dreaming big and living tiny. REALLY tiny.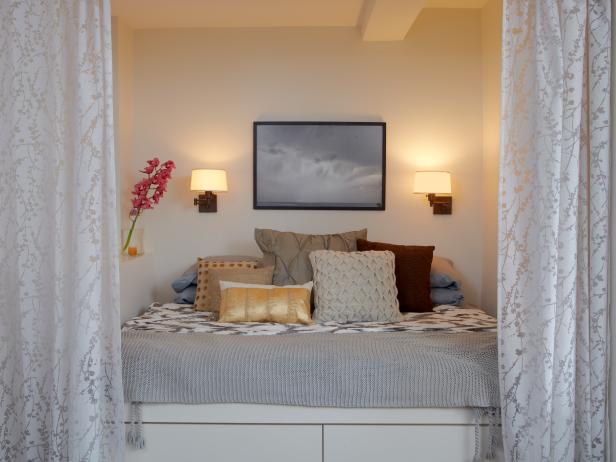 Airy Curtains Separate Bedroom in Studio Apartment
A readymade bed was painted and built in to look like custom cabinetry in this small bedroom space. Airy, floral curtains separate the bed from the rest of the small studio apartment.
The tiny-house trend has transfixed me for a while now: Mini-abodes are adorable, often affordable and eco-friendly, and admirably ultra-minimalist. All of that said, I'd argue that the most compelling thing about them for me and other New York City residents is how much their owners' challenges and solutions remind us of apartment living in the Big Apple (ironic nickname, that).
I've never lived in, say, an Airstream trailer, but my husband and I (and our two cats) spent six years in a 375-square-foot railroad apartment in Hell's Kitchen; the front door opened into the kitchen, which was the only room large enough to store a wardrobe full of our clothes. (Getting dressed and making coffee at the same time? Not a problem.) Our mattress overlapped the door to our bathroom by about a foot, so guests had to squeeze past our heads in the middle of the night if nature called.
Are NYC apartments the original tiny houses? Let's consider the evidence.
This brunch for eight took place at my friend Zivile's studio in the West Village (450 square feet); note the leaves on the table, which enable her to fold it down to a third of its size and push it against the wall when she's not entertaining. (Note as well that she's a whiz at entertaining; my husband and I joined her at an elaborate Thanksgiving dinner for 8 at her place last year.) This table space doubles as her bedroom; the tall, dark cabinet at the right conceals a fold-down Murphy bed (she purchased the mechanism and then hired a contractor to help her build it). "It's great; it takes about 20 seconds to lift the bed up and close the doors — much faster than making a regular bed."
My friend Rachel takes a softer approach to separating her and her husband's sleeping area — that is, part of the living room — from the rest of the one-bedroom apartment they share with their two little daughters in Brooklyn; they simply curtain off their bed for privacy. "Headphones for the TV are lifesavers," she reports.
"Headphones would have been key, but funny, I don't remember anyone using them," says my friend Erin (who shared a 250 square foot studio in the East Village with her boyfriend and a third roommate). This is especially impressive when she describes their sleeping arrangements: "There was a big bed in the corner by the door where my now-husband and I slept, and a couch that pulled out to a bed where our roommate/best friend slept with her boyfriend. When the pull-out couch was open (all the time, because why bother?) our space was basically one big bed." (Erin's all-bed apartment would have been a dream come true for my sisters and me, given our fondness for playing The Floor Is Actually Hot Lava as little girls.)
Another Erin with NYC micro-nesting experience — my friend Erin Boyle, who blogs about tiny apartment life (at Reading My Tea Leaves, her sustainable-living site) and recently published "Simple Matters," an elegant primer on "living small" — turned her 173-square-foot Brooklyn Heights studio into a 240-square-foot space by keeping her and her now-husband's bed in the small storage loft their landlord had built (that's their sleeping space in the image above). "There were times when it felt romantic —snuggling up in our little nest above the kitchen — but I'll be honest and say I don't miss the close sleeping quarters up there," she says. "Shimmying up and down a ship's ladder to bed lost its poetry fairly quickly."
I...feel a bit less accomplished for having had to watch people inch past my bed to pee in the middle of the night.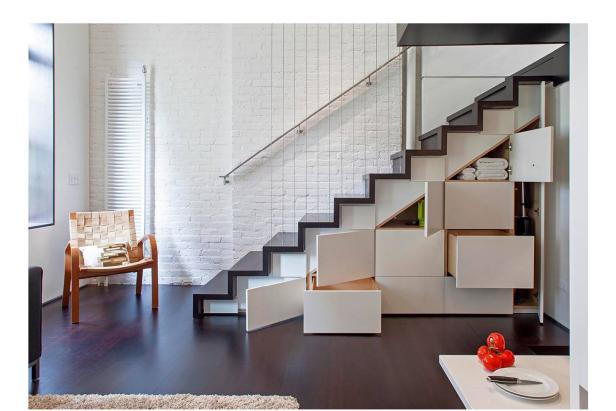 Modern Stairs with Built-In Storage
Given the minuscule size of this modern Manhattan loft, every inch of space is put to use. Stairs are not merely for circulation through the apartment, but feature built-in storage cabinetry and drawers below.
Creative Multitasking (and Geometry)
When you can call in accomplished architects (like Specht Harpman, designers of this Manhattan micro-loft), a wee N.Y.C. apartment can function like a sleek Swiss Army knife. When you're making do with what's at hand, you get to cook-bathe! "We had a little shower stall in the "kitchen" and used to chat, from the shower, with people watching TV on the living room bed and people cooking ramen noodles on the stove less than two feet away," quoth Erin from the East Village bed-apartment. "I even remember stirring the Rice-A-Roni while IN the shower once."
My friend Phil lived in what he calls "a closet" in Soho; "the bathroom was polygonal," he says, not lovingly. "My 'bedroom' window looked into my 'kitchen' window, and I mounted my TV projector inside my closet because that was the longest distance in the flat: closet, over the low shelf that separated my bed from everything else, to the opposite wall." His place would have been good for the hot-lava game, too: "No walking, only climbing."
My friend Susan, in turn, reshaped her two-bedroom apartment in Chelsea (which she shared with three people) with a bit of literary inspiration: C.S. Lewis's "Chronicles of Narnia", to be specific. "To make the living room work as a third bedroom (which two roomies shared), my roommate's dad created an alternate entrance into my bedroom, through a closet. I confused many a visitor when I literally led them through my closet, under the clothes and over the shoes, to get to my room. Very 'The Lion, the Witch and the Wardrobe'."
Speaking of fairy tales, I thought of Harry Potter (and house elves) when my friend Anthony told me of a Craigslist ad for a New York City living space that consisted of "a cut-out hole above a doorway in a wall. [You could] keep your clothes in the hall closet. I really wish I had taken a screenshot, it was so amazing." (Anthony's 250-square-foot Greenwich Village studio wasn't nearly so elfin, though his bed faced his kitchen sink and the "hallway" to his bathroom doubled as his office.)
The fancy footwork of small spaces can be as exhilarating, too, of course: My friend Camille (who, like me and my husband, used to play with fire and scorch her bread under the broiler because she didn't have counter space for a toaster) got a thrill when she got to the point where she could fit an actual toasting appliance. "I just upgraded to a tiny two-slot toaster and feel so unbelievably fancy. Like, who do I think I am?" Erin of Reading My Tea Leaves—who now lives with her husband and their daughter in a 500-square-foot apartment—recently replaced her sofa with a WWII-era canvas cot (it's pictured above with one of the crates she uses in lieu of a coffee table)—and she loves it.
Does that sound too radical? For her, "Letting go of things—or, more often, not bringing them in in the first place—has never really felt like an exercise in asceticism," she says. "I don't let go of things I really love, but I suppose I'm discerning about how many things I love in the first place. It might sounds like a stretch, but for me it's the sparseness that feels like the real indulgence. Nothing's as luxurious as climbing into bed at night and looking over a clean room with everything in its space." I once tweeted Erin a photo of my nightstand, which currently has nine half-read books piled on top of it (we now live in a comparatively palatial 800 square feet on the Lower East Side, and the maximalism I've always favored has gone a bit wild). "HAHAHAHA," she tweeted back. "(I just broke out in hives.)"
When you live in a 750-square-foot space, every inch counts. 
Take a virtual tour of the city's most incredible holiday window displays.