Tiny House, Big Living: It's Possible With These Genius Space-Saving Hacks
As seen on HGTV's Tiny House, Big Living, folks around the country are opting to ditch their spacious homes for a cozier, clutter-free lifestyle. They're saying goodbye to all the excess and making the choice to live with only what they need and love. If you've ever thought, "Maybe I could be happy in a smaller space," but you just couldn't take the plunge, we've got a few space-saving storage solutions that might just change your mind.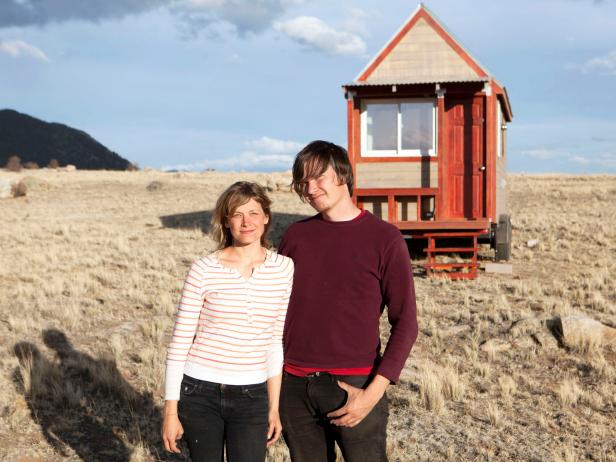 Tiny Movie Home Exterior With Filmmakers
When documentary filmmakers Merete Mueller and Christopher Smith set out to make a movie about people living in tiny homes, they became so intrigued with the lifestyle that they built their own 130-square-foot cabin. The film, TINY: A Story About Living Small, premiered on March 9, 2013.
This talented young couple was in the process of making a documentary about tiny homes when they were so inspired that they decided to build their own 130-square-foot home.
One of the home's best features is the smart shelving that makes room for books, pictures, kitchen items and more. They kept storage in mind during the design process, and the end result offers plenty of space for the essentials and then some.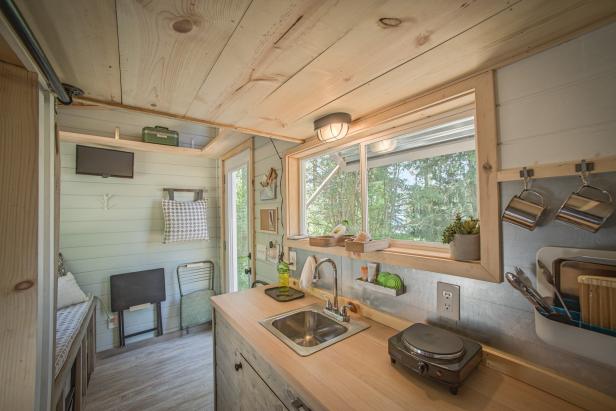 Neutral Color Scheme
Neutrals don't have to be boring! This relaxing, cool color scheme suits its small surroundings perfectly. The tones offer a soothing oasis from the great big world.
This light-filled home utilizes wall space to hang extra chairs, trays, mugs, cooking utensils and more. And by keeping the interior light, the entire space feels bright, airy and plenty spacious.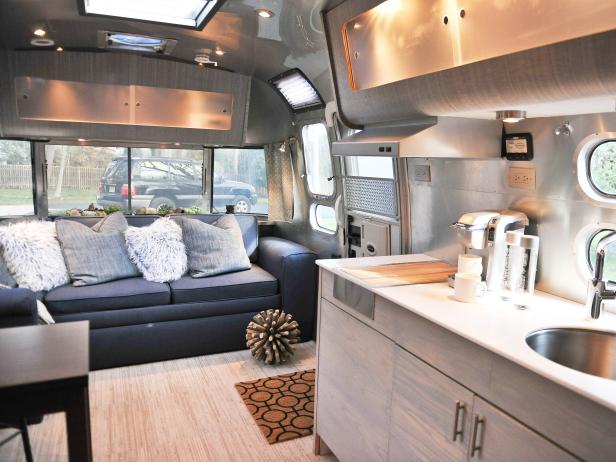 Trendy Portable Home Interior Living Space
Courtney Trent of Courtney's Good Cottage designs trailer interiors for movie stars and high-powered executives. She insists that you don't have to sacrifice comfort or luxury to live in a small, moveable space — you just have to figure out how to get the most out of every square inch.
In this petite trailer, small space does not equal small style. A contemporary interior boasts a comfy sofa with plenty of throw pillows to go around. But despite the stylish look, designer Courtney Trent also considered function. A table on wheels works as a dinner table or desk, and overhead storage makes great use of normally unused space.
Hooks for cooking utensils, high shelves that make the most of vertical space, and a cooking station with plenty of drawers and mini, built-in appliances keep clutter at bay in this tiny home.
Find more from Tiny House, Big Living here.