The Perks of Spending the Holidays at the Beach
It's hard to beat curling up with a mug of hot cocoa and watching the snow fall — but it's not impossible.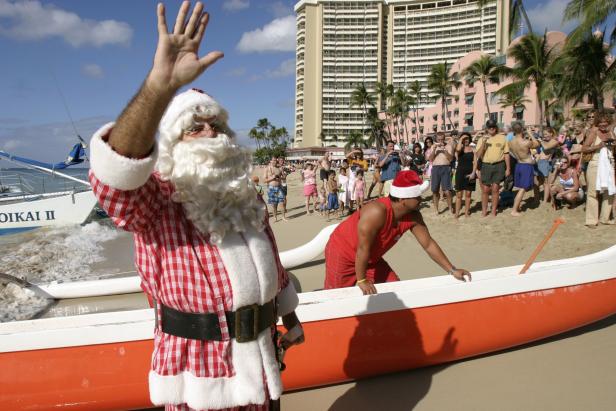 Christmas in Honolulu
In Hawaii, Santa doesn't arrive by sleigh -- he much prefers an outrigger canoe, to say nothing of the traditional palaka costume he wears in lieu of red velvet. Each December, he alights on the shore by the Outrigger Waikiki on the Beach hotel, where the public can greet his arrival and pose for pictures.
Outrigger Hotels & Resorts
Heading for the tropics at year's end means abandoning the dream of a white Christmas, but white sand is a serviceable swap, no? Consider the following, as we have ascertained from a few episodes of HGTV's Beachfront Bargain Hunt.
The seaside equivalent of a holiday hearth is pretty spectacular.
Fire Pit & Pool: Modern Oceanfront Resort in Vero Beach, Fla.
Just past the guest house, a glowing pool, integrated fire pit and outdoor seating area offer a luxurious place to enjoy evening conversation. Surrounding trees add privacy and give an intimate, cozy feel to the outdoor space.
Premier Estate Properties, Inc., a member of Luxury Portfolio International; IBI Designs Photography
It bears no resemblance to the beloved and legendary WPIX Yule Log. It is, however, a fire you can appreciate while wearing a bathing suit.
It's too warm for ugly sweater parties.
There's no shame in trying to make the best of a handmade gift from a loved one with more crafty enthusiasm than taste. That said, we've gotten to the point where we spend time and money on ugly apparel on purpose. Friends, life is too short.
It's also too warm for eggnog.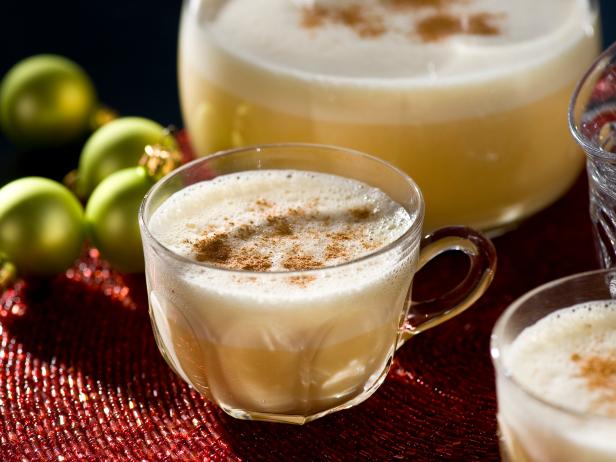 Rosario's Rumpope (Ecuadorian Holiday Eggnog)
No holiday is complete without this traditional Ecuadorian family recipe for eggnog. Rumpope, pronounced "rom-poe-pay," uses eggs, condensed milk, peaches, vanilla extract and cinnamon to create a sweet, silky beverage that's perfect for cool winter nights. Add rum for an adults-only gathering, or serve it on the side so guests of all ages can enjoy this holiday treat.
This Ecuadorian eggnog—made with rum, eggs, condensed milk, peaches, vanilla extract and cinnamon—sounds vastly superior to the heart-stopping stuff you find in the dairy aisle in most of the world this time of year. Traditional nog is only marginally acceptable when it's cold outside, and let's be honest—the prospect of nog in the tropics is gross.
You can yuk it up on social media about how much the weather sucks.
But seriously, don't do this. Your friends and family shoveling themselves out of icy hellscapes in other parts of the world will hate you, and they will be justified.
Has winter broken your spirit? To paraphrase John Lennon and Yoko Ono, DASHING THROUGH THE SNOW IS OVER! (IF YOU WANT IT). A new season of Beachfront Bargain Hunt gets rolling on January 1 at 11|10c.