See How the Property Brothers Transformed This Tiny Ranch Cabin
This space went from one-bedroom studio to luxury guest house, thanks to the Scott brothers.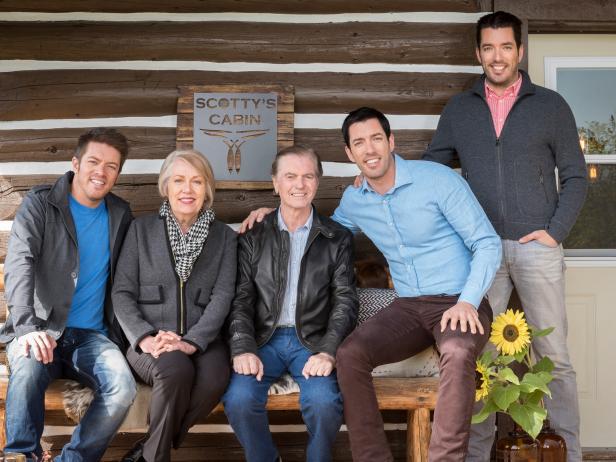 HBBRP200_150916_36.jpg
The Scott family celebrating the reveal of Scotty's guest cabin at the Bew's ranch in the foothills of the Rockies. The exterior has a new front porch featuring a new bench and staining. The interior has all new floors, furniture and appliances, as seen on Property Brothers at Home on the Ranch.
Jonathan and Drew Scott might seem like city folk, but they really grew up on a ranch in the Canadian Rockies. It was there they learned to live by the "Cowboy Code," ride horses and generally be some hard-working dudes.
Now, the brothers are going back to their roots to do a top-to-bottom renovation for a family friend's ranch on the all-new series Property Brothers at Home on the Ranch (Wednesdays at 9p | 8c.) Their first order of business: Enjoy the view and roast some marshmallows with the family. Did someone say s'mores?
Their second order of business: Transform the ranch hand cabin into a modern rustic guest cottage. They had their work cut out for them!
Jonathan and Drew replaced the front porch with heart pine boards, and replaced the tired bench with a new cedar version outfitted with a cowhide throw and indoor-outdoor pillows.
Inside the cabin, they brought the decor out of the 1970s while still preserving the home's rustic feel. Can you believe this dark living room full of dated pine paneling (left) is the same space as the airy, open living area on the right?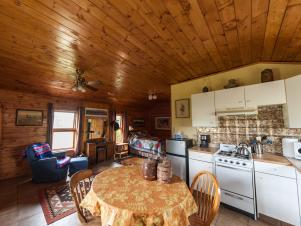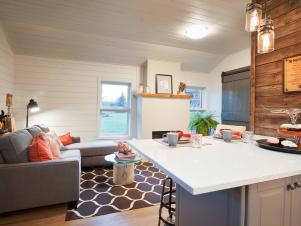 Jonathan and Drew transformed this dated cabin into a bright, modern space with rustic touches.
Tour the rest of the makeover — including the new master suite and fireplace — right here.
Underneath the suits, ties and hair gel (ahem, Jonathan,) the Scott brothers are really nature-loving farm kids. Watch as they return to their roots in their new series, 'Property Brothers at Home on the Ranch.'