Nashville Flipped: Creating New Historic Homes
There's more to Nashville than just country music – and more, sometimes, than meets the eye. DIY Network's latest home restoration series, Nashville Flipped, offers some tangible evidence.
Of course, restoring old homes is by no means a new concept, but lately, it appears to be approaching something like zeitgeist. So if you're a fan of HGTV's renovation series like Fixer Upper and Rehab Addict, and new additions Good Bones and Listed Sisters (the latter, by the way, also set in Nashville), then take note. You'll probably also want to check out Nashville Flipped and get to know its principal players, Troy Shafer and Julie Couch.
Home restoration expert Troy Dean Shafer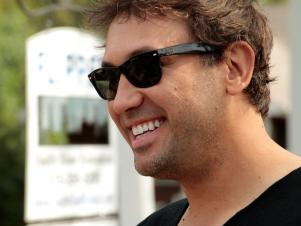 Nashville designer Julie Couch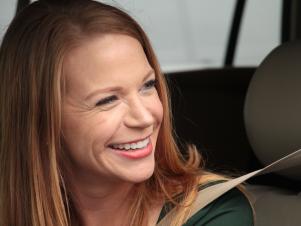 Quintessentially Nashville
Assuming you're not from there, what do you think of when the name "Nashville" is mentioned? The Grand Ole Opry and Ryman Auditorium? Music Row? Ernest Tubb? Loretta Lynn? Vanderbilt University? Hot chicken?
The John Seigenthaler Pedestrian Bridge (previously called the Shelby Street Bridge) spans the Cumberland River and connects downtown to East Nashville.
All valid associations. But insiders know that Music City — and environs like Franklin and Springfield, Tenn. — are also notably the setting to some beautiful historic neighborhoods and vintage homes. In Nashville proper there are neighborhoods with names like 12 South, The Gulch, Belmont and Hillsboro Village that offer a rich and vital cultural tapestry and vibrant new creative scenes — tinged with a discernible commitment to country pride and Southern hospitality. (May I offer you some biscuits and redeye gravy? Perhaps you'd care for a mint julep?) Add to that an interesting architectural mix and streets lined with older homes practically crying out to be rehabilitated. Now you've got an incubator for something interesting.
The Family Wash, an East Nashville venue offering coffee, eats and live music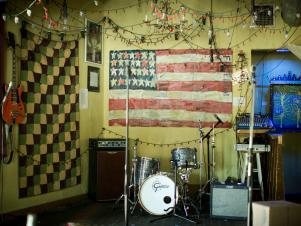 Nashville Convention & Visitors Corp.
"East Nasty" biscuits with spicy chicken, cheese and sausage gravy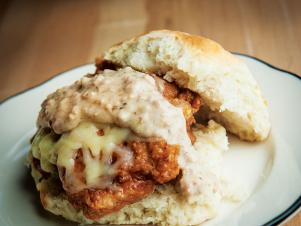 Meanwhile, just across the Cumberland River, a conglomeration of smaller neighborhoods known collectively as East Nashville has, in recent years, become something of a phenomenon of its own. With its parks and other historic city features coupled with a progressive and bohemian local vibe (think Austin and its unofficial motto "Keep Austin Weird"), this fascinating area has attracted a mix of urban pioneers, indie musicians, artists and other creative types bringing a revival of sorts to what was once a somewhat distressed part of the city.
In addition to parks and other distinctive features, architecturally East Nashville boasts a mix of Queen Anne Victorians, vintage foursquares, bungalows, craftsman style and midcentury homes. And like other smart cities, Nashville has begun to wake up to the elevated notion of preserving and restoring in lieu of simply tearing down what's old and building from scratch. Enter Dean Shafer and his accomplice/designer Julie Couch.
Troy Dean Shafer is the owner of a business named Nashville Flipped, and his company's tagline essentially tells you what he's all about: "Creating New Historic Homes." Troy came to Nashville to pursue a career in country music but ultimately found his calling in real estate and, more specifically, in saving and restoring, then re-selling, beautiful old homes.
He seeks out houses with potential in growing neighborhoods — hidden gems even if in rough condition — and meticulously updates them to contemporary standards. In fact, some people might find the "flipped" in his company moniker a bit misleading. A flipper simply buys and sells multiple properties, often with little or no substantive improvements, solely to realize a quick (and sometimes meager) profit. In that scenario, volume and expediency are the driving factors.
Troy, by contrast, is about taking the time restore homes to their former charm or grandeur in a thoughtful way — preserving their distinctive historic attributes while updating them to make them safe and attractive to today's buyers.
"Everybody knows Nashville has a rich music history but, just like a great song, every historical house in the city has a story to tell."
—Troy Shafer
And while Troy is the expert when it comes to the physical repairs and restorations in old homes, for the fine-tuned aesthetic he leans on interior designer Julie Couch.
While Troy is busy tearing out old plaster, upgrading electrical and moving walls, Julie formulates a cohesive design plan that draws on the period of the home and its defining original features as she selects materials and color palettes. Then she scours Nashville area salvage stores, antique shops and specialty suppliers to find just the right additions when it comes to things like light fixtures, door hardware and vintage accents.
"I love working with Troy because we both love architecture and historic homes." — Julie Couch
One of Troy's first projects featured in DIY's series is this 1904 Folk Victorian-style home located in Springfield, Tennessee, a rural community just outside Nashville. He bought the distressed property for just $50,000 with a plan to put an additional $60,000 into renovations and complete the flip in a five-week timeframe. Once fully renovated and restored, he anticipated he could put the house back on the market for $140,000, resulting in a profit of around $30,000.
Exterior repairs, new paint, a metal roof and fresh landscaping helped restore some of this home's former elegance. The landscaping is in keeping with 1920s-era conventions focusing on green foliage and a naturalistic look. The home's front exterior features one of two period-authentic stained glass windows that Troy installed. Even more dramatic changes took place inside, with a reconfigured foyer, living space with vaulted ceilings and a unique feature with antique windows opening to a lighted loft space with exposed brick chimney and raw wood ceilings.
Julie was able to find an antique oak mantel surround and added a tile hearth to help bring some of the room's original charm back. The mantel helps transform the space and forms a focal point around which much of the room's overall design is based.
In addition, much of Julie's interior design keyed off of a single sample of the home's original wallpaper that Troy and his crew found during wall demolition. The patterned wallpaper had a neutral background with blues, grays and greens. Julie incorporated those hues in the new color palettes of the living room, bathroom and master bedroom.