If These Tiny Luxuries Don't Make You Jealous ...
Then you really have no patience for the tiny house thing, do you?

It goes without saying that going tiny isn't for everyone: There are plenty of sacrifices to be made — privacy, space for cartwheels, dreams of seven-person hot tubs and California kings — but with the right creative minds in charge, the possibilities are endless.
The Tiny Heirloom team behind the designs seen in Tiny Luxury would make even the greatest tiny-living skeptic jealous — top-to-bottom wood accents, skylights, gorgeous high-end backsplashes? Yes, please! Here's a peek at some of the more memorable and lust-worthy luxuries seen in tiny dwellings featured on Tiny Luxury.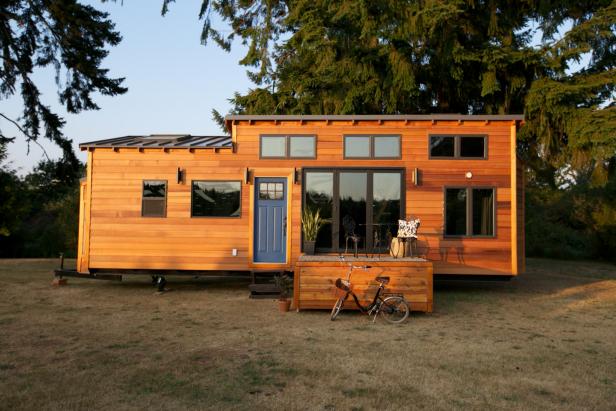 High-End Cedar Tiny Home From Tiny Luxury
As seen on season 1 of Tiny Luxury, this high-end tiny home measures 33 feet long by 8.5 feet wide and is packed with luxurious features. The sleek modern exterior features clear cedar siding, tinted minimalist windows, an alternating shed roof and an accordion window wall that leads to a cozy outdoor seating area.
Does your apartment have windows like these? Or gorgeous stained cedar? I didn't think so.
How about a clawfoot tub? Got that? Right.
Do you have light-up … OK, you get the point. Yes, this is a smaller staircase than those usually found in regular-sized homes, but the lighting on the treads make them seem, well, larger than life.
Any audiophile with a taste for fine records can appreciate, and be seriously jealous of, a custom build like this one.
"Tiny houses are so … tiny! How could anyone live with so little space?!" Well, here you go. Plus, you know, the endless acreage at your disposal when you park your house out in the woods.
It's been purported that, when heated, the ions from Himalayan salt lamps can increase blood flow, alleviate some allergies and help you sleep better. Do you have a wall in your mainstream house that can do that?
If your tiny house doesn't have at least one giant skylight directly above your bed, you're doing it wrong, sir.
Everyone likes going to those restaurants with giant garage doors that essentially create the feeling of alfresco dining on a super nice day, right? Imagine that, every day, in your living room. Mind blown yet?
Can't find any giant rocks to climb during your travels? No problem! Athleisure just took on a whole new meaning.