HGTV Stars in Dad Mode: 8 of Our Favorite Family Photos
These guys' smiles are the widest when they're with their families.
Chasing your little ones around construction sites and TV shoots (like Vintage Flip's Jessie Rodriguez does) might look tiring, but listen: If you do it for long enough, they could turn into members of your crew (like Mike Holmes's son, Mike Jr., and daughter Sherry on DIY Network's Holmes and Holmes). Whether they're at work or play, we love to see HGTV stars in proud-parent mode — and for Father's Day, we've rounded up eight of the sweetest shots they've shared.

As Chip and Joanna told HGTV Magazine, the Fixer Upper star likes to horse around with their sons, Duke and Drake, after dinner. ("He loves sending a football soaring to see how fast the boys can run," Joanna says). This dad of four (Chip and Joanna also have two daughters, Emmie and Ella) doesn't mind catching 40 winks with them, either.
How cute are Jeff Devlin and his daughter, Reese, and son Aidan? When he's not tackling renovations on DIY Network's Stone House Revival, Jeff and the kids head outside to paddleboard, ski, snowboard and mountain bike — and mug for selfies at the Magic Kingdom.
Dad of three (and grandfather of two!) Mike Holmes is also patriarch of the family business: His daughter, Sherry, (getting a lift from the guys here) and son Mike Jr. (aka "MJ") are both members of his crew. MJ co-stars in the team's latest production, Holmes and Holmes, and it's clear he's inherited his dad's obsession with doing things right: "We love building above code," he told Canada's National Post. "Because we don't believe in code. The minimum code, in our opinion, is crap. It's just not good enough." Mike senior couldn't be prouder: "This is good. I love this. I'm passing you the torch, man."
Dynamic duo Jessie and Tina Rodriguez's Vintage Flip is equal parts very old homes and very new boys, thanks to their trio of sons (Carter, Mason and Max). Little Max joined the crew in December, so it could be a few years before he becomes an official member of the superhero coalition — but in the meantime, we can savor the peak dad-ness of Jessie holding his oldest boy while wearing adamantium claws. Now that's multitasking.
Speaking of alter egos, Bristol Marunde is half of HGTV's Nevada-based flipping team (with his wife, Aubrey, on Flip or Flop Vegas), a professional mixed martial artist, father to sons Kale and Kane...and a pretty solid stylist for Crazy Hair Day. He's also an amateur zookeeper: "Bristol is always bringing something home for the kids from job sites," Aubrey says. "Last week it was a huge lizard in a drywall bucket he found, and before that, a baby bunny."
Technically this bowling trip was a date night for Flip or Flop's Tarek El Moussa and his daughter, Taylor, but just look at his little son, Brayden, (who will turn two in August) — who could resist bringing him along? Both Taylor and Brayden are regulars on set when Mom (co-star Christina El Moussa) and Dad are in front of the cameras, as well.
Team Pool Kings — dad Kelly Caviness and sons Christian and Cameron — are known for creating splashy paradises for their clients. They're also no slouches at finding waterfronts of their own (and coordinating fishing waders when they do — bonus points for this look, guys).
Income Property's Scott McGillivray's dad-shirt game is strong — he's pretty clearly devoted to his daughters, Myah and Layla — but it's the way he captioned a photo of them for International Women's Day that's stuck with us.
Who's chopping onions in here?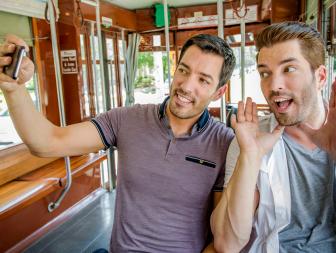 Brotherly love, passion for granite countertops ... who says couples have all the fun?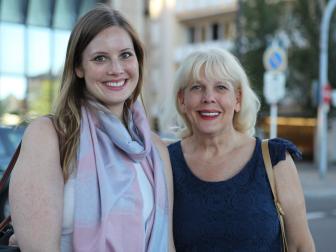 Just in time for Mother's Day, we're revisiting our favorite tough customers.